What are Internal Links?
Internal links are hyperlinks that point to another page on the same website. In simple words, internal links connect various pages on a website.
It makes the website content easily accessible both by crawlers and searchers. They will navigate through your website by following these links.
Crawlers will not see those pages that aren't internally linked, like orphan pages.
Suppose the anchor text is "digital marketing", here is what its code for the internal link looks like:
<a href=http://www.example-website.com/digital marketing>Digital Marketing</a>
FYI: Anchor text is visible and clickable text that contains a hyperlink to another page or website.  
Why are internal links important for SEO?
Internal links are helpful in different ways.
They help the users and crawlers to navigate through a website easily.

They maintain and provide information in a hierarchical manner.

They may reduce the bounce rate by encouraging visitors to spend more time on your website.

They transfer the link equity and improve page rank.

They help Google better understand your website content and establish a relationship between different pages.
Google's John Mueller says the internal link is an opportunity to communicate with Google and tell which pages are valuable.
He answered the question, "If you have structured data for breadcrumbs set up, is internal linking still important for SEO?".
"Yes, absolutely. It's something where internal linking is super critical for SEO. I think it's one of the biggest things that you can do on a website to kind of guide Google and guide visitors to the pages that you think are important[.....], And that's not something that you can just replace with structured data. So just because there is a structured data in a page somewhere, I wouldn't see that as a replacement for normal internal linking.
Google also sees the anchor text of internal links to better understand the context and relevancy of the content.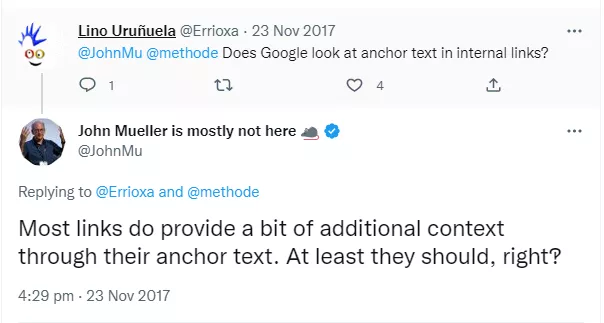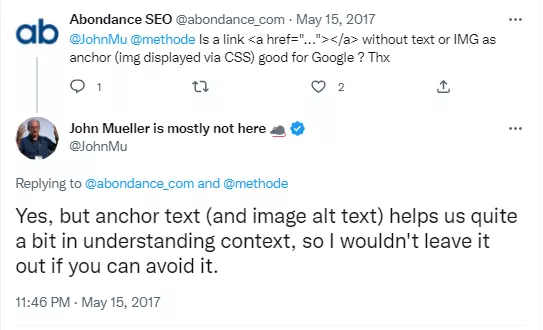 If you have a blog post discussing "dog breeds", then help Google understand the relevance of your content by using words like "dog breeds", "wild dogs", "domestic dogs", and "types of dog breed" as anchor text for an internal link to your dog breeding page.
This will most likely result in your page being ranked for related terms. 
The number of links pointing towards a page gives Google a signal about the relevancy of that page.
But that does mean adding too many internal links pointing towards a particular page will certainly improve your ranking.
Keep in mind excessive and unnatural use of internal links can harm your website's credibility, so wisely use them.
Different types of internal links
There are four main types of internal links.
Navigational Links
These links are part of a website's main navigation and stay there permanently. Users can easily access various pages from the main navigation bar of a website.
Their main purpose is to help users quickly access the content they want.

Footer Links
These links appear at the bottom of almost every website page. They direct the users to other website pages, i.e. FAQs, terms, and conditions, about us, and contact us.

Contextual Links
Instead of directing the searchers to the large navigational menu, they are provided with the relevant content by adding contextual links to the body of a page or blog post.
It provides value to the readers and makes Google understand and relate your content with other pages.

Sidebar Links
These are another type of internal links and appear on news or informative websites but are not limited to those only. These links show the relevant content to searchers by showing "Most Popular" or "Trending News" options.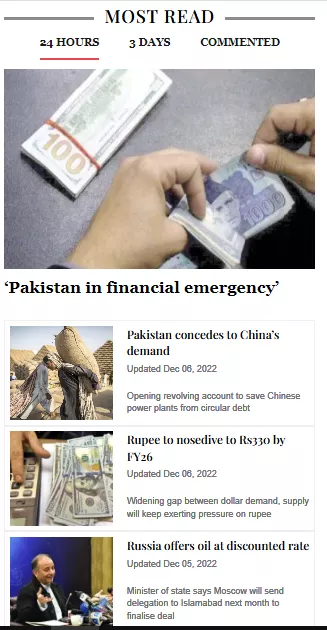 Internal links vs External links vs Backlinks
There is a slight difference between these three types of links. They provide value in their own way.
An internal link is a link on your page that points to another page on your website. These links do not boost your website authority; instead, it passes on the existing authority of your web pages to other pages on your website.
An external link (or outbound link) is a link on your page that points toward a page on another website. These links are usually used to give a citation to other more informative sources or if you have quoted someone else work.
Some SEOs claim linking to high-authority sites would benefit you in terms of your SEO efforts. However, this is not true. Here is what Google said about this: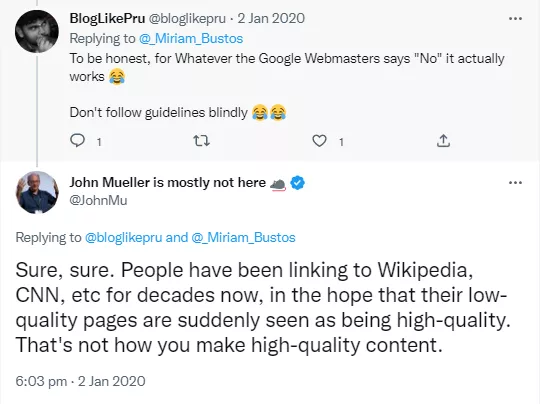 External links are not a ranking factor; they can help you build your credibility over time if done correctly by citing authentic and valuable resources.
A backlink (or inbound link) is a link on another website that points towards a page on your website. They represent a vote of confidence for your website and increase its authority.
It helps in ranking your website better in SERPs. These links can be acquired naturally or by adopting a link-building strategy.
How to set up an ideal internal linking structure?
Here is how you can build a perfect internal link strategy for your website.
Start by identifying your pillar pages
Pillar pages are the primary pages on a website that covers a broad topic and to which several other specific pages are connected.
These pages cover a broad topic with a high search volume rather than focusing on a more specific one.
Think about your pillar pages as the main topic, and avoid being too specific. For example, you have a website that targets "Mobile accessories". That will be your pillar page.
It has a high search volume that links out to different categories of mobile accessories. This section further links to more specific products.
With the help of your pillar pages, you can now build up topic clusters. Topic clusters are groups of pages or content on more specific keywords that cover the topic of pillar pages.
Pillar pages along with topic clusters will help you build a smooth site structure.
Support your pillar pages with topic clusters
Once you have identified your pillar pages, now you need to develop topic clusters to support them. These clusters will perform a supporting role for your main topic.
For instance, if your main topic or pillar page is about "Content writing", then "What is content writing", "SEO content writing", and "Content writing course" will be your topic clusters.
Topic clusters may also have other clusters, like "SEO content writing" which can further have other clusters of pages like "how to write SEO friendly content" and "difference between technical and non-technical writing".
You can internally link those pages to pillar pages to show their topical relevancy.
Start by creating topic clusters for your pillar pages and look for supporting keywords or ideas to build more clusters around your topic cluster.
You may use several keyword research tools to extract the relevant keywords to build your topic clusters, i.e. Longtail Pro, Semrush Keyword Magic Tool, Ahrefs Keyword Generator, etc.
Choose anchor text wisely and naturally
Anchor text is the clickable text that appears when you add an internal link. Efficient and relevant use of anchor text tells the search engines and users about the topic of your pages.
General anchor text like "Read more" or "Click here" will not tell the search engines what this page is about.
Exact match & related anchor text is a best practice for internal linking to let Google and searchers understand the content of your pages. 
Get advantage of your high authority pages
Your high authority pages are those having a maximum number of backlinks. You can identify those pages and use them to pass link equity from the most authoritative web pages on your website to the least authoritative pages.
Different tools like Ahrefs will give you the list of your most authoritative pages.
The pages having more backlinks from high-authority websites are your most authoritative web pages.
Add them to your list, and check their relevancy with your less authoritative pages. Add internal links to these high authority pages pointing towards the pages having the least authority.
The takeaway is to aim for at least 3-4 relevant internal links from high authority pages and point towards least authority pages or newly published content.
How to fix your internal links issues with site audit?
Regular site audits will help build and maintain a smooth internal linking strategy.
You can use site audit tools like Screaming Frog, Netpeak Spider, Semrush, or other similar tools to perform an internal linking audit. Just add your website URL in the site audit bar and start auditing.
Once the audit is complete, you will have a detailed report of errors regarding internal links. Now you can fix them depending on their type.
Broken links
If there are broken internal links on your website, the audit report will show it as a 404 error. These are the links that:
Don't exist

Waste link juice or link equity

Bad for user experience
They usually occur due to page deletion or typing errors while inserting the link.
To resolve this issue, remove the link and replace it with a correct link or one that points towards the live page.
Nofollow attributes in internal links
Nofollow links direct Google not to pass the link equity to the linked pages. Nofollow links are directed with the rel="nofollow" attribute.
This is usually done when website owners do not want to pass their authority to other web pages. However, this practice is not usually done for own website.
A nofollow internal link will look like this:
<a href="https://yourwebsite.com" rel="nofollow">Anchor Text</a>
If you have found nofollow internal links during your website audit, remove the nofollow attribute. Your links should look like this:
<a href="https://yourwebsite.com">Anchor Text </a>
If some pages are not offering value, you may remove them entirely instead of changing them from nofollow to dofollow.
Orphan pages
Orphan pages are those without links from other pages on the same website. Google follows the links available on known pages to reach other pages on a website, but if a page lacks internal links, Google will have a tough time finding this page. 
If there are issues regarding orphan pages on your website, you can also fix them. If these pages offer value, link to them from other pages. 
If an orphan page isn't valuable, you may:
Remove it

Redirect it

Add a nofollow attribute to stop Google from indexing it
Crawl depth issues
Crawl depth is the number of clicks a page is away from its homepage. Google only allocates a specific time to crawl your web pages.
If a few pages are far away, Google will consider them unimportant. It is widely believed that the pages with less crawl depth have greater chances of ranking than the others.
It is ideal adjusting your site stricture so that the important pages are only a few clicks away from the homepage. Add links to point toward the deep pages but make sure to stick with the relevant content.
Internal redirects
Internal redirects are commonly found on a website. These redirects shift the crawlers or users to the new page. These redirects slow down the website loading time and ruin the user experience.
To fix this issue, it is good to avoid unnecessary redirects and send the visitors to the newly created relevant pages instead of the old redirected ones.
Lots of internal links
If there are many internal links on a web page, it may mislead Google and searchers. These links may also distract the searchers from their query and make it harder for search engines to determine which link is important.
However, it is not confirmed how many links are too many for a web page. Google says it can crawl hundreds of links on a page.
Generally speaking, several links on a single page may have a negative impact on user experience, so it is good to avoid adding too many links to a page.
Choosing only a few relevant links and using them naturally throughout your content is what you need to get additional SEO benefits.
Internal linking strategies you should avoid
Here are a few things that you must avoid while adding internal links to your web pages.
Keep it natural and avoid overdoing
Avoid overuse of internal links and add them naturally to your content. Overuse of internal links will have a negative impact on user experience, or it may look spammy.
With too many options to click, users may not even click a single one. Instead of counting the numbers, use the internal links where needed.
Avoid using the same anchor text for multiple pages
It is important to note that using the same anchor text for different pages on your website should be avoided. If several of your posts target the same keyword, search engines will struggle to understand which page should rank for it.
This can result in either none of them achieving a high ranking or all of them competing against each other, resulting in none achieving the desired ranking.
To ensure that the pages on your website receive the appropriate rankings, be sure to use unique anchor text for each page you target. 
The bottom line
If done naturally and precisely, internal linking may benefit your SEO efforts. You only need a well-structured and hierarchical website for a sensible internal linking structure.
Now establish internal links to your website from the most authoritative pages. Using a site audit, make sure to routinely examine your website for any internal linking issues and make necessary adjustments.