What is a backlink?
A backlink is a link that appears on another website and points to your website. The website that has the link is the one providing the backlink, while your website is the one receiving it.
The backlink is considered an outbound or outgoing link on the page where it appears. On the other hand, it is called an inbound or incoming link on your website's end.
Many SEO experts believe that having backlinks to your website is like having votes of confidence that show how trustworthy the information on your website is.
However, it is important to note that the credibility of the website providing the outbound link is also a factor in the credibility of the inbound link.
You can recognize a backlink because it will appear as a hyperlink, which is a clickable text that will take you to a website when clicked.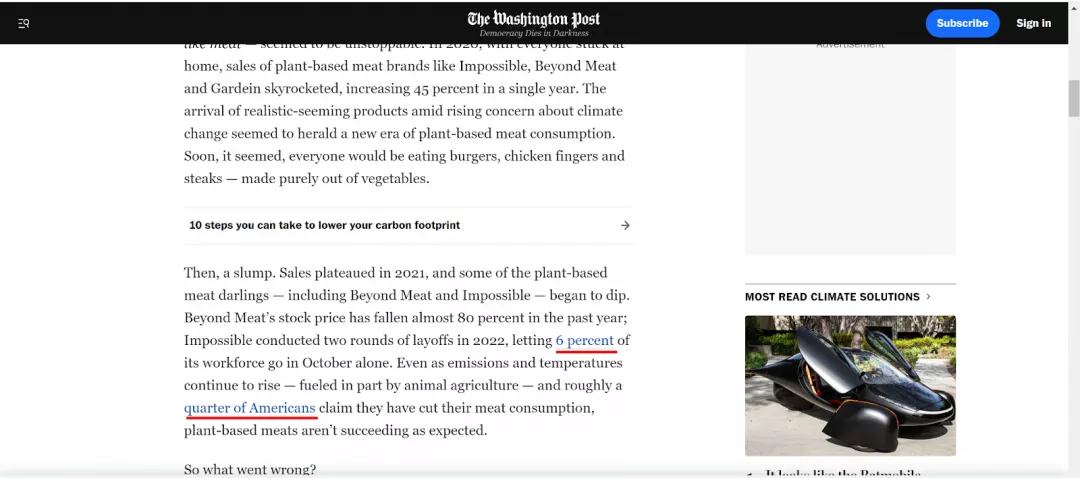 In the above picture, the Washington Post's article has two clickable links first provides a backlink to a web page of fooddive.com, and the second provides a backlink to a web page of news.gallup.com.
Why are backlinks important?
Historically, backlinks were taken as a parameter to evaluate the importance, authority, and credibility of the website.
After that, when the backlinks began to be manipulated, search engines (especially Google) started evaluating websites according to many other factors rather than only backlinks.
Now, there are a lot of factors that are considered important. However, backlinks have not lost their importance altogether; they are important in the following ways.
Ranking
Backlinks can affect the ranking of a website only when it gets them from reputable domains.
Interestingly, Google's PageRank algorithm was initially designed to consider backlinks in ranking.
Later, it started considering many other factors, but credible backlinks are still one of them. Also, the PageRank algorithm still works, but Google doesn't share enough details about it now.
Credibility
From a user's side, backlinks are crucial in determining the website's credibility. Most users tend to choose the most reliable and well-known domains for getting information.
If these domains vote for your domain by providing a backlink, the user will definitely consider it equally credible.
Referral traffic
Referral traffic refers to the traffic on your website that is generated through links or references.
It is important to note that this traffic is not the result of direct searches on a browser, but rather from visitors clicking on links that lead to your website.
Backlinks have the potential to increase your referral traffic by acquiring more links to your website.
By creating additional backlinks, you can further increase the amount of referral traffic that your website receives.
Crawling
When a web crawler visits a webpage that contains a backlink to your website, it will also crawl your webpage.
The same applies when you create a backlink (outbound) to someone else's webpage. However, it is essential to ensure that this backlink is a "dofollow" link and not a "nofollow" link.
Note: Keep on reading through this article to know what these two (dofollow and nofollow) backlinks are.
Domain authority 
Domain authority is a term used to describe the value that a particular domain or website has, which can lead to higher rankings.
Many SEO experts believe that credible backlinks play a significant role in building domain authority.
When a reputable domain provides a backlink to your website, it can pass on some of its value, also known as "link juice," to your domain.
However, this value is only passed on if the backlink is a dofollow link, which allows search engines to follow the link to your website and potentially improve its search engine rankings.
The amount of value passed on to a domain through a backlink can help determine the authority that is brought to that domain.
Therefore, it is essential to focus on building credible backlinks from reputable domains to improve your website's domain authority and search engine rankings.
Types of backlinks
Backlinks are split into the following main categories.
Dofollow backlinks
Dofollow or follow backlinks are links that can pass on authority and trust to the domains they are pointing to.
In the HTML code of the referring page, there is no specific attribute that indicates whether a link is dofollow or follow.
Instead, the code for a dofollow or follow backlink will appear as a simple, regular link, which includes the standard HTML code for creating a hyperlink:
<a href="https://xyz.com/blog">
Nofollow backlinks
These backlinks have the attribute rel="nofollow" in HTML. This attribute is used to tell search engines that a referring site does not want to pass authority or give a vote of confidence to the URL it is pointing to. In HTML code, it looks like this:
<a href="https://xyz.com/blog" rel="nofollow"  >
Nofollow backlinks have been around for almost 17 years and were originally designed to prevent spamming.
In the past, website owners with low-quality sites used to create backlinks to their own sites by posting links in the comment sections of reputable sites.
To combat this, nofollow backlinks were introduced to prevent search engines from giving these spammy links any credit or authority.
Attributes related to nofollow
After 14 years of the nofollow attribute used solely by webmasters, Google introduced two similar attributes to better analyse links. 
UGC attribute
UGC (User-generated content) refers to content that is created by users of a website rather than the site owners.
This type of content is commonly found in comment sections or forums. Google recommends using a specific attribute, called "ugc," for links that are associated with UGC, instead of using the nofollow attribute.
In HTML code, a UGC link with the "ugc" attribute will look like this:
<a href="https://xyz.com/blog" rel="ugc">
By using the "ugc" attribute, website owners can indicate to search engines that the link is associated with user-generated content and should be treated accordingly. 
Sponsored attribute
Sponsored or affiliate links are used when a backlink is pointing to a product or service for the purpose of advertisement.
In such cases, it's important to use the "sponsored" attribute to inform search engines about the true nature of the backlink.
In HTML code, a sponsored link will look like this:
<a href="https://xyz.com/blog" rel="sponsored">
In addition, you can combine these link attributes to understand their purpose better. For example, if you put the "nofollow" and "sponsored" attributes in one URL, it will give a signal to the search engine that the link is affiliated, and also, you do not want to pass any authority.
While not all search engines may understand both attributes, Google has stated that using these links will serve as hints to determine how URLs should be crawled, indexed, or ranked.
Moreover, webmasters can keep on using the links made before this announcement with the same nofollow attribute. It is because changing every single link is impossible.
Which backlinks are good for SEO?
Following are the features of good backlinks that can benefit your site's SEO.
Relevant
Backlink should be relevant to the website it appears on. It is because the search engine will give more value to the relevant links than the others.
For example, a digital marketing agency has two backlinks, one from an SEO blog and the other from a parenting blog. The one that can make the agency rank well and bring more traffic will be the link from the SEO blog.  
With high authority
When it comes to backlinks, not all sources are created equal. If you receive backlinks from different sources, having a backlink from a high domain authority source can be more advantageous for your website than several backlinks from sources with low domain authority.
With high traffic
The website that gets more traffic will be able to pass more referral traffic through backlinks. Imagine a website with high daily traffic has given you a nofollow backlink; still, it can bring traffic even if it is not passing any link juice.
Prominent
The backlink that has gained a prominent place or is designed to be prominent will get more attention than the others. Bill Slawski, a renowned SEO expert, states:
"…if a link is in the page's main content area, it uses a font and color that might make it stand out. It may use text that may make it likely that someone might click upon it. It could then pass along a fair amount of PageRank.

On the other hand, it could combine features that make it less likely to be clicked on. Those features include being in the footer of a page, in the same color text as the rest of the text, and the same font type. It also may use anchor text that doesn't interest people. Because of those factors, it may not pass along as much PageRank."
Dofollow/follow backlinks
If a backlink to your website is given from a reputable website and it is also a dofollow link, it will be a lot better than the nofollow link.
The reason is very clear since the dofollow link passes the authority and trust that a nofollow link doesn't.
Which backlinks should you avoid?
Some backlinks will negatively affect your efforts in SEO. All of them come in the category of self-created backlinks.
Paid backlinks
Buying or selling links is prohibited by Google's Webmaster Guidelines. These paid links are considered spam and will be useless to you. Such links would include exchanging links for money or for products.

Backlinks from low-quality forums
Many forums are not trustworthy as they are created for spam practices. Getting backlinks from these forums will give no good image of your brand. Links from trustworthy forums can be profitable for your brand.
Backlinks from irrelevant sources
Sometimes, brands receive backlinks from forums, sites, or directories that are not relevant to their niche, and the search engine does not create a positive image of those backlinks.
For instance, a medical website getting backlinks from a retailing site selling cars would be an irrelevant vote or endorsement.
How to get backlinks?
Focus on quality content
The accuracy and reliability of information determine your content's quality. Quality content is also based on thorough research and answers several queries.
This type of content can force reputable websites relevant to your niche to give the reference of your site.
Write guest posts
A guest post is a piece of content that you write on a website other than your own. Guest posts should also be high-quality and relevant. Many sites write for each other to add valuable links for each other.
In doing so, you should avoid writing for or accepting blogs from irrelevant sites. Also, you should never send the same blog to different sites or stuff your URLs meaninglessly in a blog.
Get backlinks from citations
Citations refer to your business details listed on other websites or directories, such as your business name, address, phone number, and website URL.
By providing citations in the form of blog posts or descriptions on other sites, you can potentially earn backlinks to your website.
Use HARO
Help A Reporter Out (HARO) is a tool that helps journalists and bloggers to add valuable content to their publications and receive backlinks respectively.
Bloggers send the content they want to publish, and the journalists publish it on reputable news websites and provide a backlink to the source.
It is a trustworthy source of getting backlinks, but due to many requests, your content has to be highly competitive to be selected.
Use press release
One way to earn backlinks is by sending newsworthy information to journalists or news agencies.
By creating high-quality content that is relevant to the niche of the website where you want to publish it, you can potentially encourage the referring site to provide a backlink to your website.
Use forums
Only high-quality and trustworthy forums should be selected for promoting your backlinks. For instance, Quora is a platform that allows you to promote your site.
You can sign up and answer the queries of people. You can convince them with detailed tutorials and provide your site backlinks. This way, you can also improve the traffic coming to your site.
How to check backlinks?
You can check or analyse your backlinks through the following tools.
Google Search Console
It will give you data about your own website and its overall performance. You have to make an account on Google Search Console, and after signing in, you will see an option "Links" on the left.
Clicking it, you can get information about external links by selecting any of the three options, viz. "Top linked pages", "Top linking sites", and "Top linking text".
"Top linking sites" will tell you which sites have the most backlinks to your site. You can select any site to check the pages that provide backlinks to you.
Ahrefs' backlink checker
Using this tool, you can check links to other sites as well as your own. You can enter the URL and click on "Check backlinks".
Here, you will see all the backlinks provided to a domain. In addition to it, you can check the details of each backlink, like anchor text, referring page, domain and URL rating, and traffic.
SEMrush backlink analytics tool
Using this tool, you can check your website's and your competitors' backlinks. In addition to providing the total number of backlinks, it will tell you about referring domains, authority score, monthly visits, outbound domains, and the number of keywords that bring users.
Should we focus too much on backlinks?
If you focus on content quality, there is not much you should do to get backlinks. Nevertheless, if you want more exposure and authority, you should focus on getting quality backlinks rather than simply aiming for a high quantity of backlinks.
It is because a single backlink from a high-authority website can equal many backlinks from low-quality or low-authority websites. 
Google's Search Advocate, John Mueller, does not support SEOs focusing too much on backlinks because it can be a ranking factor but is not the sole option that can give you a better ranking.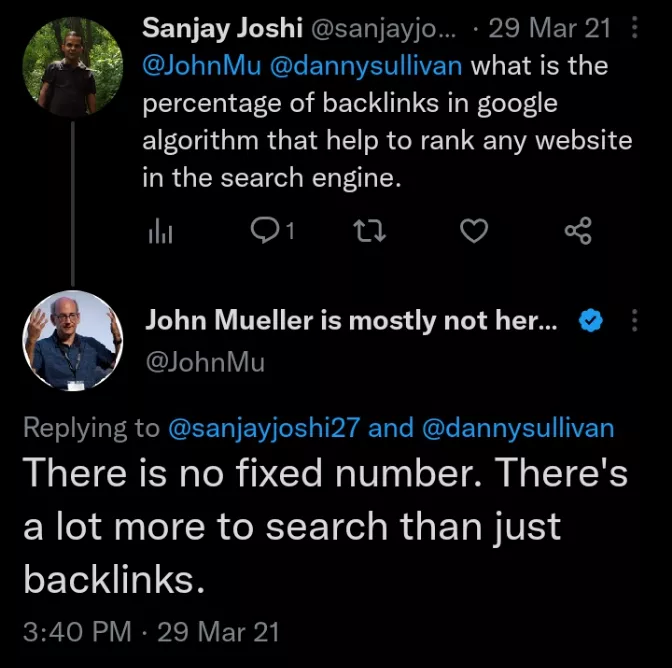 Ranking without backlink
There are instances where sites have secured a good ranking and have got good domain authority with minimum or even zero backlinks.
In a video by Ahrefs, you can see how people have succeeded in making their position in search results with little to no effort in backlinking.
Can You Rank Content Without Building Backlinks?
Conclusion
Backlinks are an important factor in SEO, but their impact on search engine rankings is not immediate and can take time to build.
As a beginner, there are many factors to consider when it comes to building a successful SEO strategy, including backlinks.
However, once you establish your business and build a strong online presence through high-quality content and a focus on user experience, backlinks can come as an added bonus.