What is Disavowing Backlinks?
Disavowing backlinks is the process of directing Google to ignore the low-quality and unwanted backlinks coming from low authority or spammy websites. It can be done by using Google Disavow Tool.
This process positively impacts a website's ranking and helps avoid penalties by Google due to bad links coming from offensive websites.
How to recognize a bad link?
Any link Google thinks you have created to manipulate its ranking system is considered a bad link. You can easily recognize the bad links because they are coming from the sites having:
Spammy websites

Sites having explicit content

Irrelevant sites

Link farm (set of web pages created only for linking purposes)
Why disavowing important for SEO?
Building more backlinks for a website is essential. A website with more backlinks is supposed to get more traffic. But that should not be done at the cost of your website's reputation.
The primary purpose of disavowing is to protect a website from bad backlinks because:
Spam and low-quality backlinks can ruin a website and its ranking.

Low-quality links prevent an increase in your domain authority. It also results in low conversions, site traffic, and revenue. 

Your site may get penalized by Google if there are plenty of black hat or spam links pointing toward your website.
It would be best if you stay away from the following backlinks:
Links from spam and offensive websites

Links from websites created solely for backlinks
When should you disavow the backlinks?
When you are sure that your website has a lot of spam and low-quality backlinks, you must disavow them. Also, if you doubt getting a Google penalty or have already got it, you must remove or disavow the risky links.
It is because disavowing backlinks is something that can significantly impact your website ranking, whether negatively or positively.
Identifying links for disavowing is quite simple. Check the spam score of the websites you are getting the links from.
Make a list of all the links having high spam scores, nofollow or expired backlinks, and note it down in an Excel file or Notepad.
Now manually review these links first. See, what is the purpose behind these links? If it provides some monetary gain to your site and its security is not being compromised, you may keep them.
Other than that, remove or disavow the link and if all the links of that website seem spammy - consider disavowing the entire domain.
What do links disavow do?
When you disavow the links, you tell Google to ignore these backlinks for your website. If it is successful, these links will not be counted for your website.
Every link on a website has its importance. It is a vote of confidence that tells Google the authority and reliability of a website.
That is the reason you must always double-check your backlinks before removing them. Google will also warn you before disavowing your backlinks.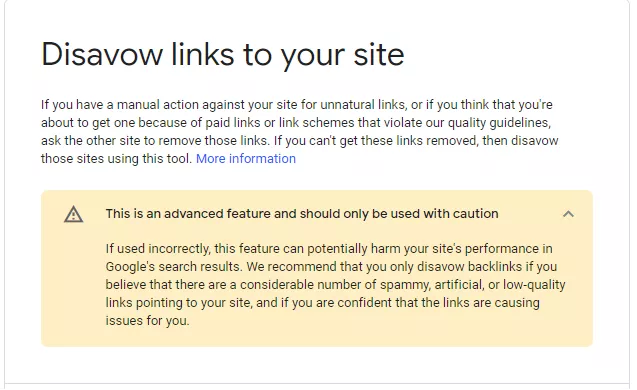 If you have uploaded the file of some good links to disavow by mistake, you can surely download this file and make changes to it. Upload it again and allow Google to crawl and index your website.
It may take several weeks, and it is still being determined whether it will immediately affect your website. So avoid experimenting with your disavow file.
How to disavow backlinks with Google Disavow Tool?
Disavowing backlinks is quite a straightforward process. Go to your Google Search Console and "Export External Links" in the top right corner. Now export this file to analyze for the bad backlinks.
If you want to disavow an entire domain, it will save time. But keep in mind all links are not the same.
If you are sure about a spammy domain, you may put it on that list; otherwise, choose individual links.
Creating a disavow backlink file is easy. Make sure to stick with this format:
Every entry should be on a separate line.

The maximum character length for a URL is 2,048.

Each line must begin with the domain without any punctuation marks.

If there is a domain you want to disavow, make sure to prefix it like this "domain:"

If you want to add a comment to this file, start it with #. Google will ignore this.

The file must be in .txt format.

The file must be encoded in UTF-8 or 7-bit ASCII.

File size should not exceed 2MB.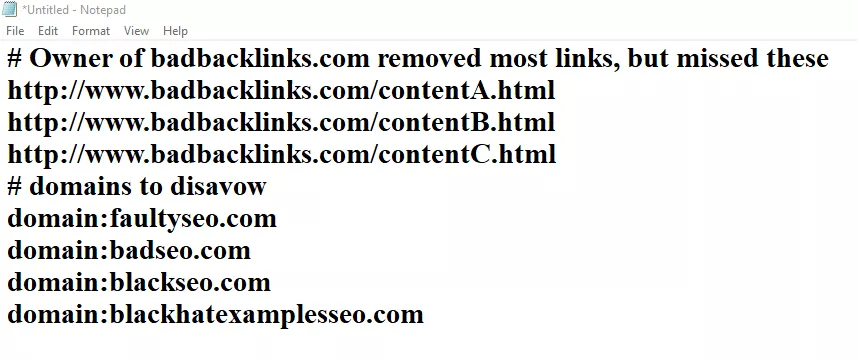 Now go to the Google Disavow Tool and choose your file to upload. Select the property for which you want to disavow the backlinks.
Select the file you have already created and upload it. Selecting a new file will replace any old file.
If there are any errors while uploading your file, those will be immediately displayed. You can fix them and upload the file again.
It will take Google a few to several weeks to disavow this list, and these links will still appear in your links report. 
If you want to cancel a disavowal request, you can do this by going to Disavowal Tool. Select the property and click Cancel Disavowals. It will take Google several weeks to re-crawl and reprocess your property.
Keep monitoring your backlinks
After disavowing your backlinks, keep on monitoring your backlink profile. First, you must be aware of the sites linking to your website.
Many tools will alert you and help you craft a suitable backlink management plan for your website SEO.
SE Ranking
This tool helps to add and monitor the backlinks of a website. If there are bad links you want to ignore, you can disavow them using SE Ranking.
It also monitors the value of your backlinks and analyses the referring websites. This tool analyses the value of your backlinks by assessing different parameters of referring sites like social shares and Google Indexation status.
You may also check the ratio of nofollow and dofollow backlinks for your website.
Brand24
Brand24 offers features for off-page optimization and effective backlinking. This tool gathers information about your website on different social media platforms, review websites, and blogs.
These references on other websites are analyzed and ranked as positive or negative. Negative references can affect your website, so you must consider them.
You may disavow these links or contact the websites to ensure a favourable outcome. 
RankActive
RankActive provides a tool to monitor the backlinks of your website. It also offers link-building opportunities by pointing out your competitors' backlinks.
SEMRush
This tool provides a detailed overview of backlinks and the referring domains. You can even sort out the backlink based on their type and root out links harmful to your brand reputation. 
SEMRush allows you to add and compare up to 5 competitors you want to outrank.
In addition, you can fill your backlinking gaps using this comparison report and find new opportunities to improve your overall website backlinking profile.
The bottom line
A good backlink profile is essential for the SEO of a website. You may rank for high-volume keywords if your website has a strong backlink profile.
Google is pretty good at ignoring spammy backlinks, but it is not perfect. Sometimes you need to take prompt action to ensure that no bad links are linking to your site.
You can use Google Disavow Tool to direct Google to ignore any bad links and monitor your backlink profile using tools like SEMRush, RankActive, etc.