What is Spam Score?
Spam Score is a metric developed by Moz in 2015 to check which websites are spammy and which ones are trustworthy.
Usually, websites are assigned a score from 1-100, where 1 is the highest level of trustworthiness, indicating less spam score, while 100 is the least level of trustworthiness, indicating a high spam score. 
Keep in mind Google does not use this score to evaluate the trustworthiness of a website.
It was developed by Moz to inform the SEOs about the potential risks associated with their websites and how much Google may perceive their websites as spammy.
When the spam score was first launched, it was tested against the 17 spammy signals.
Moz calls these signals "spam flags". Gradually, Moz incorporated more signals into its system, and now there is a total of 27 spam signals that are used to check the trustworthiness of the websites.
How does it work?
Moz calculates the spam score at the subdomain, page, and root domain levels.
Moz initially introduced it only to check at the subdomain level because Moz thought spam is usually associated with subdomains of a website.
That means if you see a high spam score of a website that is only applicable at the subdomain level, that does not mean the entire website has a high spam score.
Websites are tested against 27 spam flags or indicators, and each indicator adds a percentage value to its probability of being spammed. A domain is finally tested for accumulative spam flags and then assigned a spam score.
You can see that a specific colour also represents the likelihood of the domains beings spammy.
Green: Low risk of spam
Yellow: Medium risk of spam
Red: High risk of spam
Now that you understand the mechanism behind spam score, you can identify it for a website.
It works in a pretty simple way. You only need to enter the website in "Link Explorer" of "Moz", for which you want to see the spam score.
Go to Moz ˃ Link Explorer ˃ Spam Score.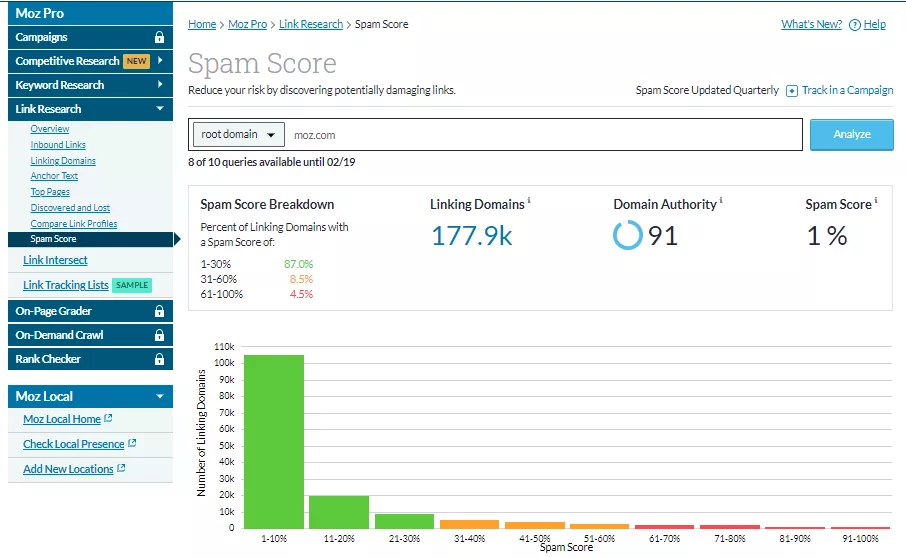 On the right-hand side, you will see the spam score of the entered domain, which is 1% for the given domain, while on the left-hand side, Moz will show you the percentage of linking websites with their spam score. 
In the above example, 87% of websites that are linking to Moz fall under the category of a low spam score of 1-30%. While on the other hand, 61-100% of websites fall under the category of spam 4.5%. 
When you scroll down further, you will see a list of all the linking domains with spam scores. You can also import this data in .csv format.
Keep in mind Moz only allows you to see 50 links in its free version. To view a complete list, you need to purchase Moz Pro.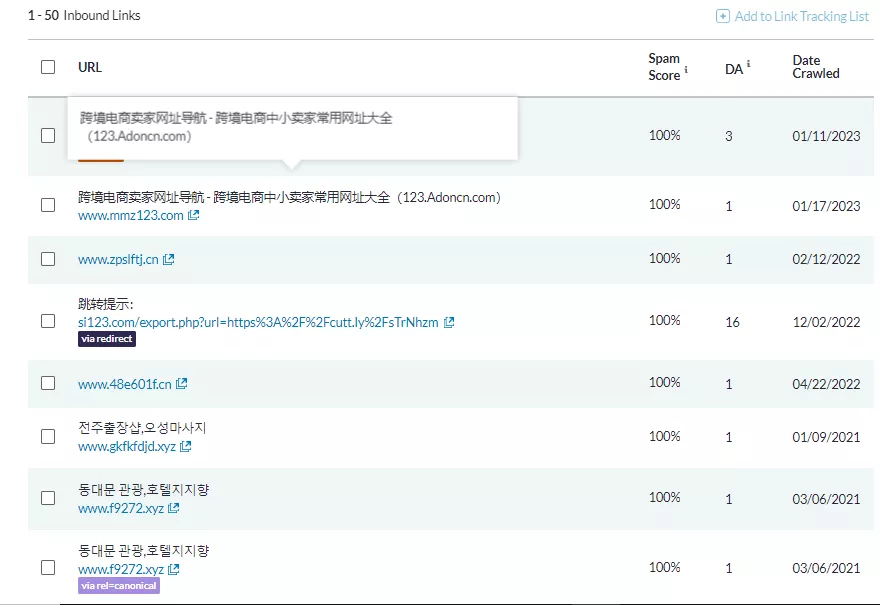 Signals of spam score
Low MozTrust to MozRank Score

Moz uses the two most important metrics to check the authority and popularity of websites – MozTrust and MozRank.

A website with a low MozTrust to MozRank score is likelier to have a higher spam score.

Large sites with a few links

If a website has several pages, but only a few sites are linking back to it, this indicates a site is spammy.

It shows this site is not worth linking to, which is why it only got a few backlinks.

Low backlink diversity

If a website has 200 backlinks, but all are coming from only 5-10 domains - it indicates a low backlink diversity which will make this website eligible to appear under this flag.  

High ratio of dofollow to nofollow links

A high ratio of dofollow to nofollow links indicates that a website has not acquired these links naturally or perhaps obtained them through paid links. 

Small proportion of branded anchor text than non-branded anchor text

Branded anchor text means "the text containing the name of the brand, i.e. seodebate".

A website with a smaller proportion of branded anchor text than non-branded ones may indicate spam because the links may not have been acquired by organic means.

Thin content

Google gives weightage to sites with high-quality and in-depth content.

If a website does not meet Google quality content guidelines or contains thin content, it may fall under Moz thin content spam flag. 

Sites with little markup

Site markups (schema, HTML, JavaScript, CSS) are usually added to enhance the user experience.

If a website has only added a slight markup, it may make this website eligible for spam.

Little to no internal links

Valuable sites with useful content are likely to add more internal links to keep their users staying on their websites longer.

If a website's content is useless, it will only have a few or no internal links; this can indicate spam.

Presence of external links in the navigation

Websites that are intended to serve the searchers and provide value to them often do not contain external links in their navigation.

The presence of external links in navigation indicates low-quality pages, i.e. low-quality blog directories.

No contact information

Authoritative sites always have contact information to ensure their visitors can effectively communicate with them.

A Low number of web pages

Websites having a low number of pages generally indicate spam. But that does not mean a website must have hundreds and thousands of pages.

If a website has only a few pages but offers value to searchers, it will not be considered spam.

Domain name length

Adding the entire keyword in your domain used to work in the past; now, this concept has changed completely. Usually, it is seen that all the top-performing domains only have a few characters rather than whole long keywords in URLs.

That does not mean you cannot add a keyword to your domain name - it must be short, simple, and should not exceed the maximum URL character limit. 

Numbers in domain names

The presence of numbers in domain names also indicates spam.

Hyphens in domain names

Spam websites use to add more hyphens in their domain names than others.

Top-level domain (TLD) correlated with spam domains

Certain top-level domains (TLDs) like .biz, .loan, .win etc., are associated with spam websites. 

Lack of Google Font API

Websites that do not use special fonts, i.e. Google Font API, are more likely to be spam. 

Lack of Google Tag Manager

Google Tag Manager –a free tool used to get marketing data of your website – is usually not used by spam websites.

Lack of Doubleclick

Just like GTM, Google Doubleclick – which allows advertisers to control and manage their ad campaigns - is usually absent on spam websites.

Absence of LinkedIn link

Sites that do not have a LinkedIn link are also associated with spam.

SSL Certified

HTTPS sites indicate a secure connection and show that the website has invested in an SSL certificate to make the website end-to-end encrypted.

It is very rare for a spam website to invest in SSL certificates.

Use of Meta keywords

Websites that tend to use meta keywords are more likely to be spam than others.

Long Meta keywords 

Websites that use long meta keywords are likely to be spammy.

Too long or too short meta descriptions

Spammy websites tend to have too short or too long meta descriptions.

Although adding a meta description is recommended for better visibility of a page in SERPs, however exceeding the recommended length (usually 150-160 characters) is not suggested.

Non-local rel=canonical tags

The canonical tag represents that this particular URL it is pointing to is the master copy out of many similar pages.

When a website uses a non-local canonical tag, it is an indication of a spam website. 

Absence of Facebook Pixel

Facebook pixel – a code added to a site to track user behaviour – is never present on a spam website. 

Webspam topics

Spam websites employ the keywords that usually move around the web spam topics, i.e. adult content, casino, etc. 

Lack of Favicon

Spam sites usually do not have a favicon – a small icon that appears with the URL of a page in a browser bar.
The importance of spam score for SEO
Websites involved in black hat SEO tactics may get penalised by Google.
These websites are intended to deceive search engines. A high spam score indicates that a site has not spent time researching and creating a solid website framework that complies with the search engine guidelines.
Instead, it has mainly focused on developing spammy tactics to instantly boost rankings.
Spam score gives you valuable information about:
Spam score of your subdomain or a root domain

To see how much spammy a website linking to your website via backlinks is.
Backlinks significantly impact a website, but that does not mean having too many spammy backlinks will help you.
Spam score helps you identify the trustworthiness of your website and those that are linking to you. You can focus on lowering your score to avoid being penalised by Google.
How to use spam score?
So now you have understood what spam score is, here are a few ways to help you leverage your SEO strategy with the help of spam score.
With the help of a spam score, you can see whether your website is prone to Google penalisation or not. If it has a high spam score, you must take immediate action to fix this problem.

Your content must be relevant and in-depth and must not be stuffed with keywords.

Backlinks are crucial, but that does not mean having too many low-quality backlinks will help you improve your website ranking. It can harm your website and make it eligible for Google penalisation. If too many spammy backlinks are pointing towards your website, you must address the issue and disavow them using Google Disavow Tool. It will tell Google that you disregard these backlinks. Keep in mind this is not something that is always recommended. You must double-check the backlinks before disavowing them. Instead of getting several backlinks from low-quality web directories, focusing on earning natural backlinks is good.

There are several other factors you must consider to avoid getting a high spam score, i.e. the presence of thin content. Google gives priority to content that is valuable for the searchers. You must ensure that your website has high-quality content that is in-depth, well-researched, and contain other helpful visuals like videos, images, and infographics. 

There are only a few exceptions (Wikipedia) where adding too many external links will not harm your website. Websites other than publications should avoid too many external links on their pages. 

Avoid TLDs that are usually associated with spam, like .win, .data, .men, .work, .ga, .loan, .ml etc. 
A spam score is a good indicator, but that does not mean it reflects a perfect picture of your website.
If a page has a high spam score, that does not necessarily mean the whole website is spammy. Similarly, if a domain has a less spam score, that does not necessarily mean a particular backlink from this site is not spammy.
So it is always recommended to look at the spam score of individual pages and the domain as well.
How can I reduce my spam score?
As far as the spam score of a website is concerned, it is good to preplan your website structure, content strategy, and marketing plans.
No secret trick will help you quickly get out of a high spam score. However, a few practices must be adopted to benefit your website.
If your website is hit with a high spam score, you cannot change its URL length, hyphens, and numerals, but you have greater control over other parts of your website.
You can update your existing content with best practices, add new content, focus on earning natural backlinks, remove the spammy backlinks and try to add as much value to your site as possible.
It will ultimately help you reduce your website spam score. It requires plenty of time, research, and effort, but the results will be worth watching.
Takeaway
Spam score is developed to help the websites see whether they are trustworthy or not.
Keep in mind this tool is developed by Moz that only uses the data of the websites penalised by Google and compares it with other sites to assign a spam score.
Google does not use spam scores, and this score does not necessarily indicate that a website is actually spam.
It is just a score representing that your website may have several potential signals that can lead it towards a Google penalty.