What is Link Farm?
A link farm is a series of websites that are solely made to link together to build their authority and get more visibility in search engine rankings.
A website in link farm also sells links to other websites, which is totally against Google's guidelines. Google does not like link exchanges and paid links, especially those coming from irrelevant sources.
To overcome this issue, the websites in link farm defined the categories and split them to link to a specific relevant target page. In short, link farms try to make it look natural for search engines. 
Despite all this, search engines can easily identify them as these are low-quality sites loaded with lots of links and poor-quality content - generated through non-human sources. 
Link farms and Private Blog Networks (PBNs) are both considered black hat SEO tactics and share an interconnected relationship. In the case of PBNs, link farms are created with the purpose of linking to the specific website(s) outside of your network, aiming to enhance their rankings.
Link farms give backlinks to a site by adding its link to the existing content or through guest posts.
Search engines efficiently detect these websites and deindex them from the search results. The other linked websites can also face a severe drop in their rankings. 
Usually, an expired domain with some DA and PA is used as part of this spam practice. This domain is then used to link to other websites by selling backlinks. 
The emergence of link farms
The concept of link farms originated when Google announced the PageRank algorithm.
PageRank considered links from other websites as an authority and ranked them based on how strong a website's backlink profile is.
Link farms evolved in 1999 when Google couldn't identify the links' quality and only valued those websites that got more backlinks. It only considered the quantity to make a website authoritative.
Regardless of where they came from or whether they offered searchers any value, these links served as a vote for the websites that were connected.
As a result, this led to the evolution of link farms. Some suspicious SEOs started creating link farms just to connect several websites for link-gaining purposes to gain authority.
Are link farms important for SEO?
Link farms belong to black hat SEO tactics. Google and other search engines strictly prohibit these.
Google is intelligent enough to catch these websites, but it cannot always spot them.
Whenever Google identifies a website, manual action is issued to it. This method is not recommended as it is unreliable to gain links.
For some websites (adult and gambling) where earning backlinks naturally are difficult, the link farming method is used to manipulate the search engine rankings.
On the safer side, it is always recommended to stay away from link farms as these are part of black hat SEO and, once identified, can result in a penalty by Google.
Why Google hates link farming?
Link farming is a method of deceiving search engines. Google likes to serve its users with authoritative, relevant, and accurate information as much as possible.
Though Google likes the links in ranking websites, these links should be acquired organically. 
Link farms are made to link to one another unnaturally and do not offer any value to the searchers. Their sole purpose is just to gain more search engine visibility.
That is why Google does not like this practice. 
Google has clearly mentioned in its spam policies that links that are intended to deceive search engines into downgrading the search rankings are spammy.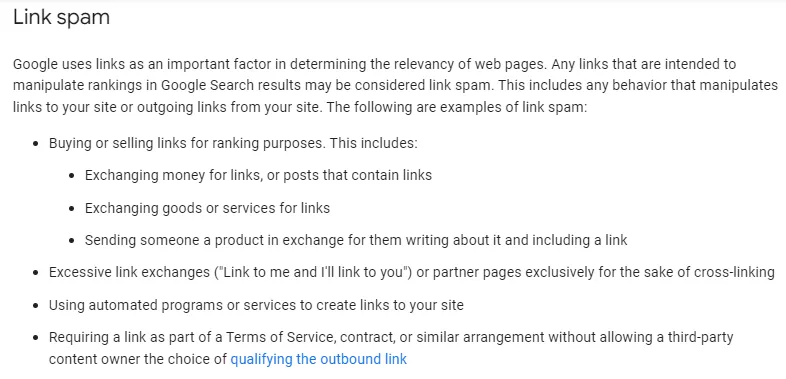 Why should you avoid it?
Link farming is against the guidelines of Google. Even if you haven't received any penalty from Google, that does not make your website authorised.
If the linking website gets a penalty from Google, your website will also face a decline in its ranking, traffic, and authority. 
Your links will gradually become less valuable, and eventually, all your efforts and time will be wasted.
As a good SEO practice, it is recommended to focus on acquiring links from reputable and high-authority websites with lots of organic traffic. Though this is a slow and lengthy process, the results will be worth watching. 
Are link farms different from web directories?
Yes, link farms are totally different from web directories.
These directories are made to provide information to the searchers, while link farms are intended to deceive the search engines and do not provide any relevant information to the users.
Anyone can access these websites and use them. Moreover, the categories are not well defined, and the structure is also poor.
While on the other hand, directories are well designed where each category and link is mentioned in a well-organized way. It is easy to access a particular category or a topic, unlike a link farming website.
However, be careful while using these directories. Google does not rank or value them, especially if they fall under a low authority score.
How to identify a link farm?
There are a few things that can help you identify the link farms.
If you are getting a backlink from a website, make sure it does not belong to a spammy network; otherwise, your website will also be at risk of manual action. 
Look at the website's overall nature
Websites in link farms usually do not curate the content with human intervention. The content of these websites is usually generated from software and has no value for the readers.
Moreover, the structure of these websites is poorly designed, and their top-level domain (TLD) is also cheap and spam, i.e. .xyz, .biz, .loan, etc.
These websites are also overloaded with hyperlinks as they are solely made for this purpose. Don't get fooled by the domain authority or page authority of a website or a page.
These stats are not perfect, and a high score does not indicate that a website does not belong to a link farm.
The owners of spam websites know how to trick the system. So ideally, it is good to look at the organic traffic rather than its authority. 
If all these things exist on a website, you must think questionably about them.
A bad website template
As link farms are made for the purpose of link building - these websites do not spend money on web designing; instead, they only use a simple bad or basic template for all websites. 
Lack of specific information
Another important thing that is usually missing on these shady websites is the presence of an "About us" page or author profiles.
These websites post content without showing the author's name and only display "anonymous" in their "Written by" section.
They also do not show the contact information or tell about the address of the business. 
Check the external links on a website
Linking out to other useful resources is an important SEO practice, but doing it unnaturally or excessively is not recommended.
If you have spotted tons of outgoing links on a web page, it indicates a link farm. This may indicate a website is only created to link to other websites. 
Do not ignore anchor text
The unnatural and irrelevant use of anchor text is another sign that a website belongs to a link farm. Google supports relevant anchor text that makes sense with the rest of the content.
If the anchor text is stuffed with keywords, repeatedly occurs on a page, and is irrelevant, the possibility is it belongs to a link farm.
How to fix links from link farms?
If you suspect the presence of links from link farms on your website or have gotten a manual penalty from Google, you can fix this issue by adopting a few measures.
Just see your backlink profile to identify the links that are causing you a manual penalty.
Go to Google Search Console and download your Link Report. You can either manually identify the spammy links or use a tool like semrush to check their toxic score.
If high spam/toxic score websites link to your websites, now it's time to disregard them. You can either contact the site owners to remove the links or use Google Disavow Tool to let Google know to ignore these links.
Once you are done with that, you need to send a reconsideration request to Google.
It takes time to regain your website authority, but once you are determined to save your website against spammy practices, you will see the long-term benefits.
Takeaway
Link farms belong to shady SEO practices, and are intended to deceive the search engine rankings, so avoid getting any backlinks from these websites.
You can spot them by looking at their website structure, contact information, and quality of content. 
Stay away from these websites, as they will make you eligible for manual action by Google. Instead, focus on creating natural backlinks from high-authority websites.