What is Google Sandbox?
The alleged probation period that restricts your website from ranking in Google's top search results is called Google Sandbox.
Think about your new website. There are very few chances of its ranking in higher search results, even if you have done everything right.
This is because of the Sandbox effect. It stops your website from appearing in top search results. 
However, this effect does not last forever. It usually takes 6-8 months (or even longer) for Google to understand that your website is trustworthy and offers quality that will benefit the searchers.
Google has never officially confirmed the existence of the Sandbox effect, but SEO experts believe this effect does exist.
The origin of Google Sandbox
In 2004, the concept of Google sandbox saw a wave of interest. SEO professionals and site owners observed, despite making every effort to rank their websites, their websites were not getting higher positions in search results.
It took longer for newly created websites to rank in the top organic results, typically a few weeks to several months. They were not getting the top rankings despite getting indexed by Google.
This was only specific to Google; websites on other search engines like Yahoo and Bing were getting instant results. After extensive studies and testing, SEOs found that this is due to the Sandbox effect.
Some experts believe Google wants to serve its users with trustworthy content from authoritative websites. That is why it does not pay attention to brand-new websites and puts them in the sandbox.
It makes sense because Google values its visitors; that's why it always takes time to establish a website's authority and credibility.
Does Google deny sandbox?
Google has always denied the existence of a sandbox.
Gary Illyes of Google responded to a tweet.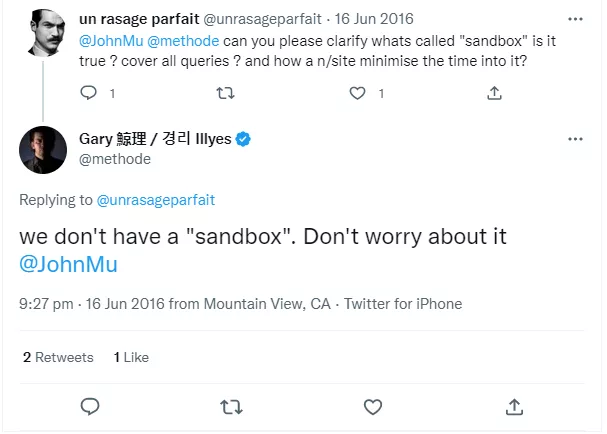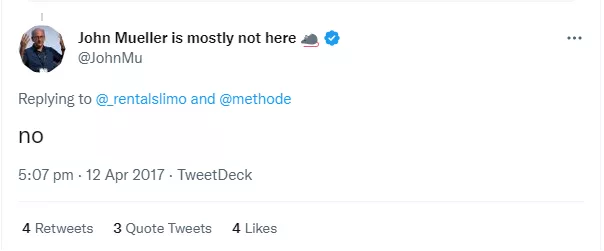 Here is the answer of John Mueller (Webmaster Trends Analyst at Google) to the question about the sandbox effect from Webmaster Hangout, streamed on Feb 23, 2018.
With regards to sandbox, we don't really have this traditional sandbox that a lot of SEOs used to be talking about in the years past. We have a number of algorithms that might look similar, but these are essentially just algorithms trying to understand how the website fits in with the rest of the websites trying to rank for those queries. It's always kind of tricky in the beginning when we have a new website and we don't quite know where we should put it. […] You kind of seen some changes in search happening there. Because when you have to make some assumptions and figure out, does it make sense to put it here? Are we seeing enough support after a while that is actually the right place? Or should we have ranked it higher? Should we have ranked it lower? These things are kind of tricky with new content.
Citation
Watch John Mueller talking about this at the 23:05 minute mark.
Watch the video here to listen to the complete answer.
Why does the Sandbox Theory make sense?
In a way, Sandbox Theory makes sense because it prevents new websites from ranking while assessing their quality.
It seems cryptic if a brand new website suddenly occupies the top search result and replaces the old and authoritative website that has been here for years for a keyword.
Backlinks are essential for a website's ranking, and it is highly questionable that a new website quickly gets a strong backlink profile within a limited time.
Many SEO experts believe that Google also pays close attention to user behaviour by analyzing the dwell time, bounce rate, and click-through rate to improve its algorithm.
This sandbox period will allow them to collect and analyze this data.
Here comes another theory that is called Honeymoon Theory. It is believed that Google ranks new websites in the top positions in search results. After that, it analyses the user behaviour, like click-through and bounce rates.
If this content is found useless and searchers tend to revert from it, Google will push it down.
However, just like the Sandbox theory Google also denies the Honeymoon Theory.
How to reduce the Sandbox period?
For new websites, it takes a few weeks to several months to get noticed by Google for ranking. Here are a few things you can do to reduce your Sandbox period.
Get indexed by Google
Getting indexed by Google must be your first step to avoid the sandbox period. If Google does not know about your site, how will it rank you?
For that, you need to make your website and its content easily accessible by Google. The best way to do this is by submitting a sitemap.
Most websites' sitemaps can be found by going to their domain URL and adding /sitemap.xml at the end.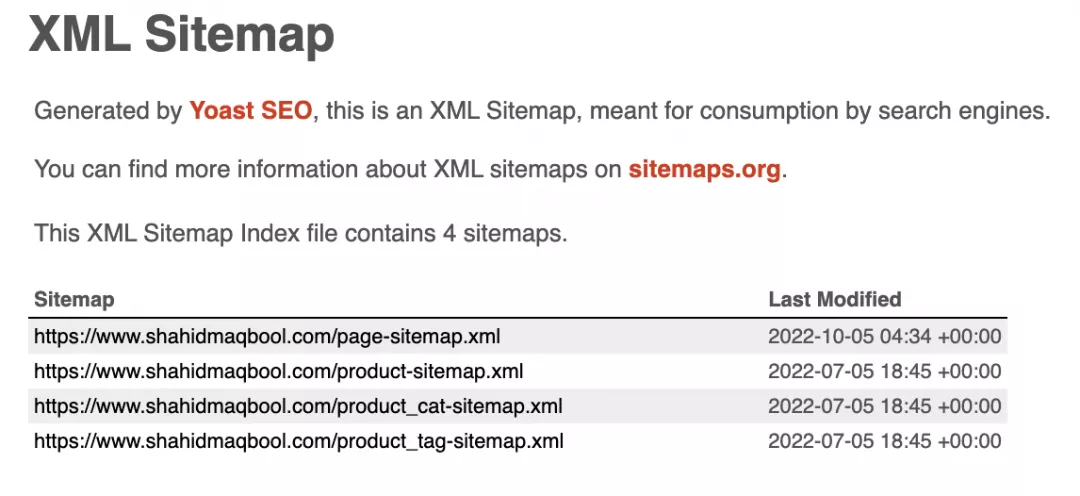 (Here is an XML sitemap of shahidmaqbool.com)
If you want to create a sitemap, our article on sitemap.xml will provide all the details you need.
After creating your sitemap, you must submit it to Google Search Console. Once you are done with that, Google crawlers will use a submitted sitemap to crawl every page on your website.
Optimize your website for organic traffic
Now that you have submitted your sitemap, your next step should be to optimize your website for organic traffic. For that, you need to focus on the following:
Create quality content that actually offers value to the readers

Implement on-page optimization strategies (internal linking, page load speed, mobile responsiveness) to make your website search engine friendly

Perform a website audit using tools like Screaming Frog, Siteblub, and Netpeak Spider to observe the site problems and find solutions to fix them.
Get more social signals
Social signals are a great way to build authority and reduce the sandbox period. Link your business with social media accounts to engage with your audience. Here are a few things you can do to build your authority:
Create posts regularly

Engage with your audience by responding to their comments

Post videos, images, polls, and links to your blog posts daily

Add social media buttons to your website
Increase your website authority
To get out of the Sandbox effect as quickly as possible, you need to focus on building your website authority. You can measure your website authority by using the Domain Authority Checker.
Domain Authority is a search engine ranking score introduced by Moz that shows the likelihood of your website ranking in search results.
When a site is new, Google does not know about its trustworthiness. For that, you need to build your website's domain authority using different methods, i.e. link building.
Links from high authority sites endorse your website's trustworthiness, and Google will gradually start ranking it higher.
Put simply; a few tactics can be used to lessen the sandbox effect. A daily engagement on your social media accounts, quality backlinks, valuable content, and other white hat strategies will get the attention of Google.
It will eventually rank your website for high-volume keywords in search results.
Why is your website still in the sandbox?
Indexing a new website in Google does not guarantee higher rankings. The Authority of a site, trustworthiness, a good backlink profile, and several other factors contribute to increasing the ranking of a website.
It is quite difficult to get Google's attention within days after the launch of a new website.
Despite having a good SEO campaign, if your website is not ranking, there can be several reasons for that.
Lack of website content
Sometimes not having enough quality content on your website will put your website in a sandbox effect.
When you make your website available for Google, it first goes through the content to check its topical relevancy.
If there is not enough high-quality content on your website, it may hold up Google to search for the relevance and importance of your topic. As a result, Google will put your website in the sandbox.
For that, you need to create high-quality content that covers all the relevant topics to show your website's authority and make Google realize that you are an expert in that field.
Poor user experience
Google gives too much attention to user experience. If your website speed is slow, it has poor content, its bounce rate is high, or it has a bad CTR – Google is not likely to rank it.
Absence of quality backlink profile
Why will Google rank your website over other high-authority websites if it lacks authority and does not have a strong backlink profile? 
Without a strong backlink profile, your website may suffer from getting higher rankings in Google. Quality backlinks from other websites are an endorsement of authority and trustworthiness. 
It would be best to focus on creating quality backlinks instead of building a weak profile with overly used anchor text that may get you a Google penalty.
High competition
Google ranks different industries or niches with different signals. Websites may experience different results depending on niches and competition.
Think about legal or medical websites. These industries require more legitimacy and quality backlinks to get the attention of Google.
It definitely makes sense because these niches and their information may significantly impact searchers' lives.
Google will not take the risk of ranking newer websites despite fulfilling all SEO requirements. Instead, it will rank the trusted and old websites at the top.
Start with low-competition keywords. Once your pages rank in organic search results, you may target high-volume keywords. 
Takeaway
Google has never officially confirmed the Sandbox effect, but many SEO experts believe it exists. They have experienced a sandbox-like impact when trying to rank their new websites. 
Google may have some specific algorithms for ranking new websites, but that does not mean you will stay in this period for a long. A new website still has the potential to grow and rank by implementing a few strategies.
Adopt a step-by-step approach to optimize your website, add quality content, get indexed by Google, gain links from high authority sites, and improve user experience.
This probation period may seem bad, but you can turn it in your favour by gradually building your website's authority and credibility.