What are Google SERP Features?
Google SERP features are the search results that appear on the Google Search Engine Result Page (SERP) and are different from the typical blue-coloured website's link.
These blue-coloured links are organic results related to a particular query. All other results (snippets, images, FAQs, etc.) that appear on the search pages are called Google SERP features.
The most common types of Google SERP features
The most common types of Google SERP features include
Google Ads: Top & Bottom ads

Knowledge card

Image pack

Videos

Top stories

Featured snippet

Shopping Results

Tweet box

Local Map Pack

Related searches  Recipe block

Reviews

Job Listing

Google Flights Pack

Hotel pack

Job listings



Google Ads
Google ads are paid and different from organic results. They appear both on the top and bottom of the search page.
Top ads
These ads are present on the top of the SERPs. These ads usually cover commercial queries like buying online shoes, buying mobile phones, etc.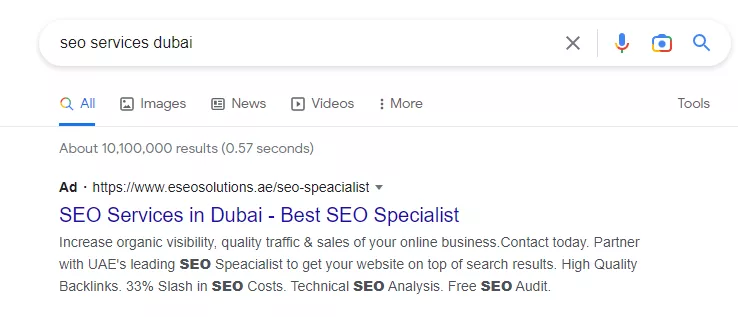 Bottom ads
Some ads display at the bottom if there is a significant demand for a particular keyword.
These ads are the same as top ads in appearance but are located at the bottom of the SERPs. Though both ads appear on the SERPs – top ads perform better than bottom ads in terms of visibility and CTR.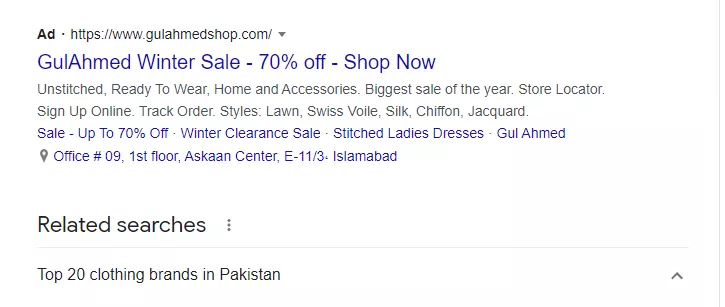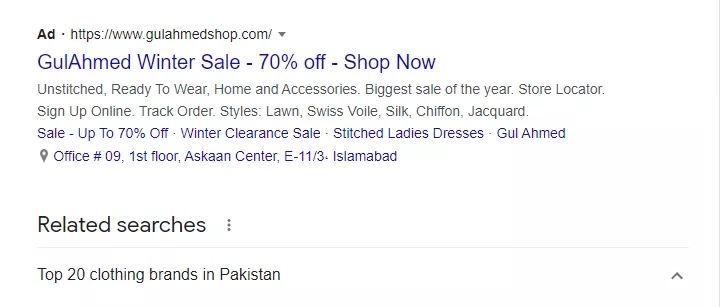 Knowledge card or Knowledge panel
This card provides significant information about specific people, places, companies, and events. It appears on the top right corner of SERP.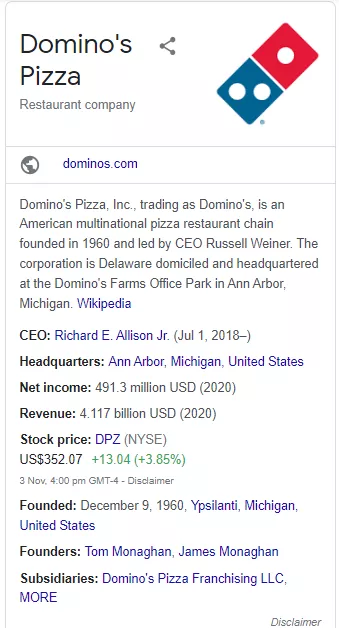 Knowledge card is part of Google Knowledge Graph, launched in May 2012.
Google Knowledge Graph collects data from multiple sources like Wikipedia. Google Knowledge Panel fetches this information and displays it on SERP.
Image Pack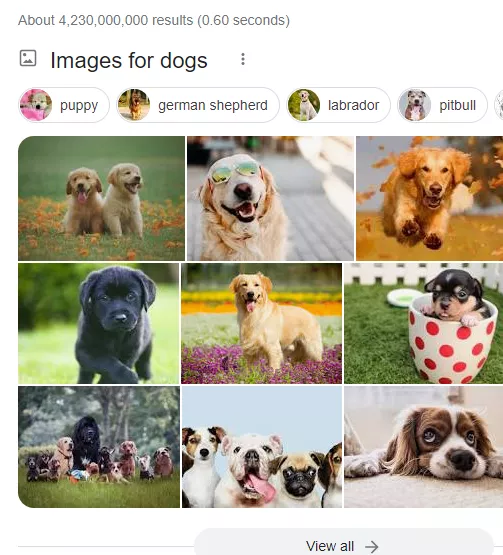 Google image pack is a series of images that appear on the SEPR when you type a particular term. They can lead you toward the main website - hosting this particular image after clicking on it.
Some images are obvious. Like, if you type the word dog, you will see images of dogs. But in some cases, Google identifies the user behaviour and will show you the image pack accordingly.
For example, type the query "CV", and you may not expect the search engine to bring the image pack for you, but it does.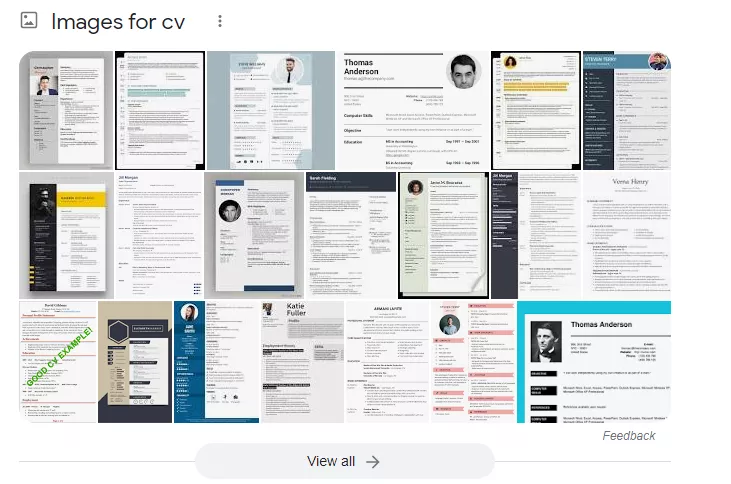 Video 
Videos appear on the SERP when a search query matches it. This video can be from YouTube or an embedded video of a website.
Usually, three videos appear on the page. You may view more by clicking the arrow on the right side of the carrousel.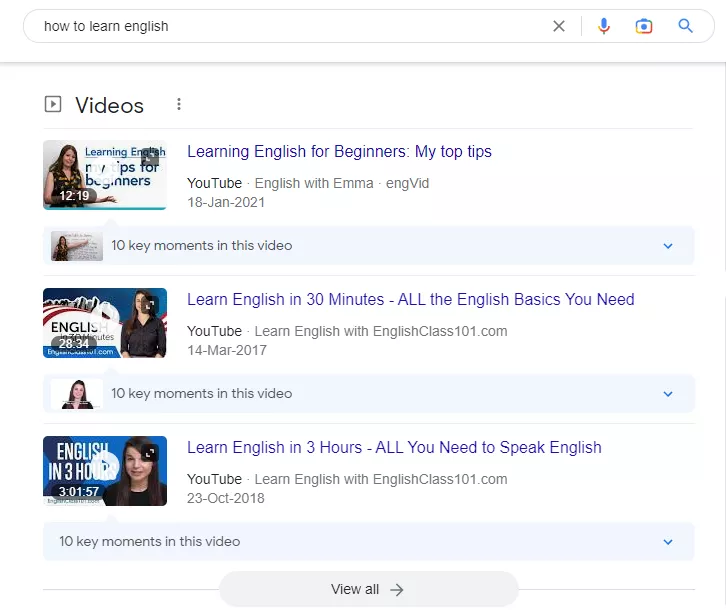 Top Stories
Top stories appear when someone searches for trending news and events. Google pulls the stories from Google News and other approved sites and shows the trending results in News Box.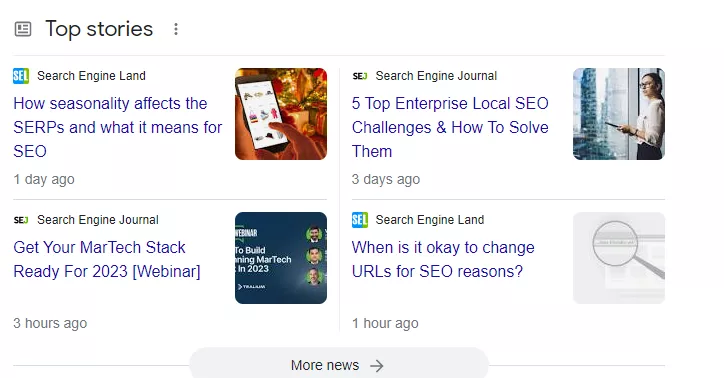 People Also Ask (PAA)
These questions usually appear after a few organic results or under a featured snippet. These are queries Google thinks are relevant to your searched term.
It quickly answers your query without clicking on the website link. This SERP feature usually contains 3-4 search queries that can be expanded after clicking on one or more queries.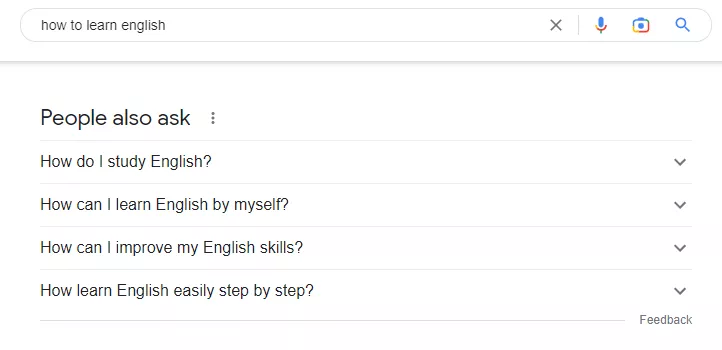 Featured Snippet
The featured snippet appears above the organic search results. It is also referred to as "zero position" or "ranking #0".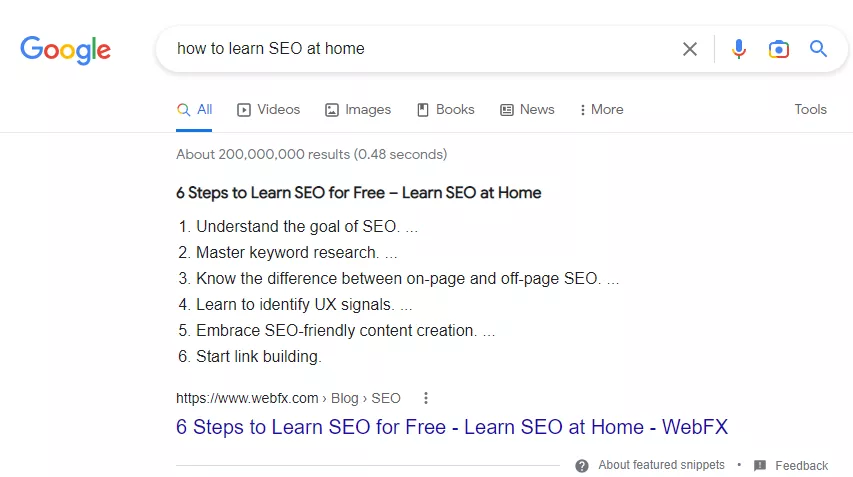 A typical featured snippet of a website usually has these components:
3-4 lines of content

Page title

Page URL

An image
This snippet collects precise and to-the-point information from a website and presents it in paragraphs, tables, lists, and videos. Some featured snippets show up in the form of a widget. You may find it if you search for weather, a calculator, or an online converter.
Unlike other search results, the link to the website is present at the end of the text or video in the featured snippet.
Shopping Results 
Google shopping results are the paid ads that appear on SERP when a buyer searches for them. It shows a carousel of products with price, name, star rating, and link to the website.
It enables the buyers to quickly look at the searched products without going to multiple eCommerce websites.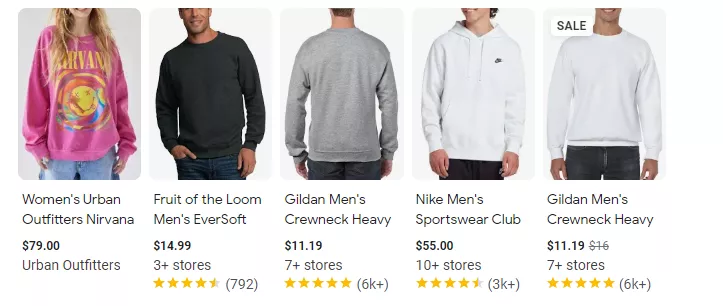 Tweet box or Twitter cards
Tweet box is the Google SERP feature that shows the most relevant, recent, and trending tweets of celebrities, politicians, and brands. This feature usually appears at the top or after a few organic results.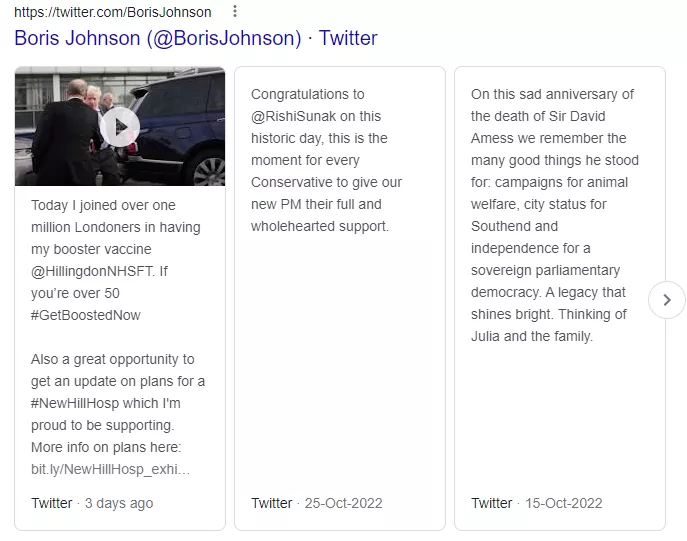 Sitelinks 
Sitelinks are a Google SERP feature that was officially announced in 2006. These links appear under a website and help users quickly navigate to other pages or sections of a website.
This feature allows visiting a particular page of a website, a specific section on a website page, and a search bar to jump directly to a particular result of a website.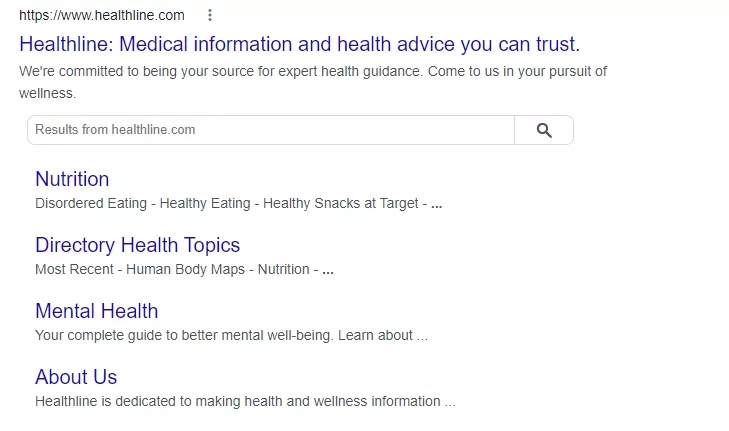 Local Pack or Map Pack
When a user searches for a location, Google shows the three relevant results on SERP. These local packs contain the most relevant and helpful information regarding a business like:
Business name

Opening hours

Q&As

Popular times

Address

Contact information

User reviews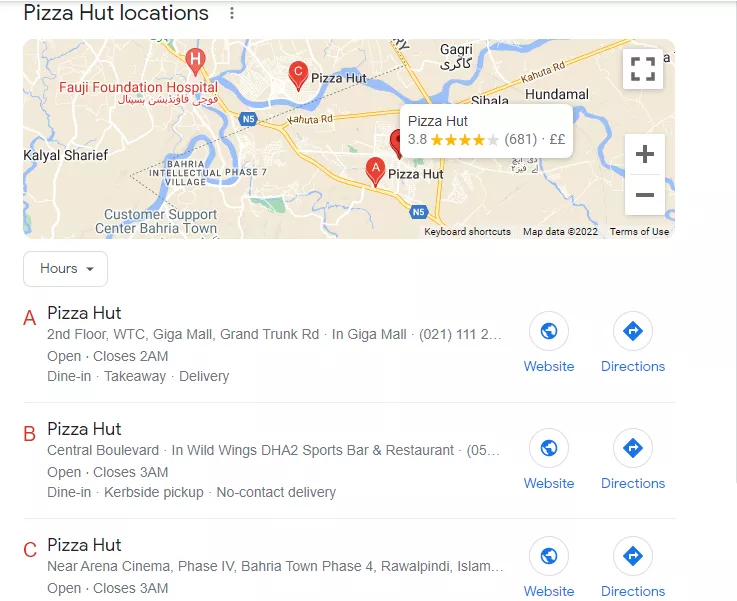 Map packs are a great way to optimise local businesses. They directly pull the data from GBP (Google Business Profile).
Local businesses must focus on creating a positive relationship with customers to get good feedback and improve their GBP, along with other basic SEO approaches.
Related Searches  
Related searches are present at the bottom of the first SERP. These are the search terms that Google thinks are most relevant to our search query.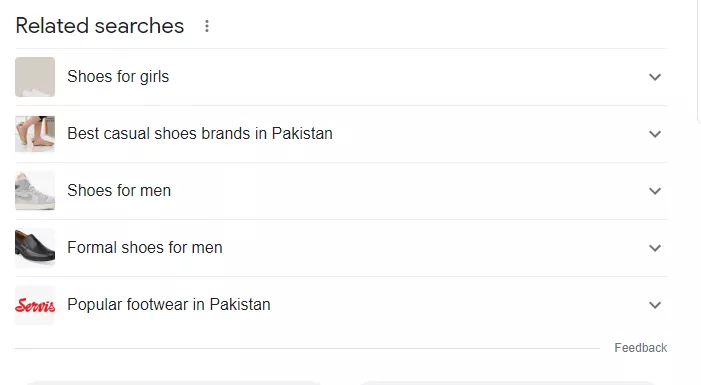 It is just like a suggestion by Google about the queries you might not think about.
Recipe Block
Recipe Block also appears on the SERP when you search for a particular recipe. It usually contains ingredients, calories, cooking time, and reviews.
You can optimise your Recipe Block for SERP by adding structured data (cooking time, cooking method, calories, and reviews) to your website pages.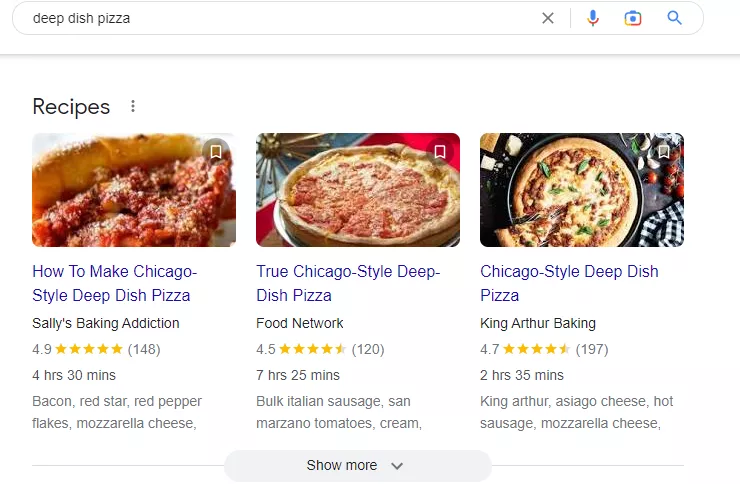 Rich Snippets
Rich snippets provide additional information about a search query and have a high CTR.
Usually, three elements (title, description, and URL) of a website appear in SERP. Rich snippets go beyond this.
For example, searching for "how to make homemade ice cream" will show you much more information than the regular snippet.
Some links will show cooking time, ratings, and calories as well. It contains more information and has a high click-through rate, which is why it is called a rich snippet.

There are several types of rich snippets. It depends upon the website's niche. Common snippets appear for eCommerce stores, recipe websites, movies, and event sites.
Reviews
Sometimes Review Stars also appear for certain items, recipes, books, movies, and other products. It is usually present between the website URL and the snippet.
Having a five-star rating adds more value to your product and services. Appropriate and credible reviews bring high CTR and add more value to a page.

Google Flights Pack
Google Flight Pack provides information about different flight schedules on the internet. It collects the data available from the flight companies. You may even sort through various options on the main SERP page, track prices, and make a booking online.

Hotel Pack
Google Hotel Pack is a SERP feature that shows the locations and lists of hotels near you or for a specific location. This feature usually shows 4 results with hotel name, price, rating, images, and location.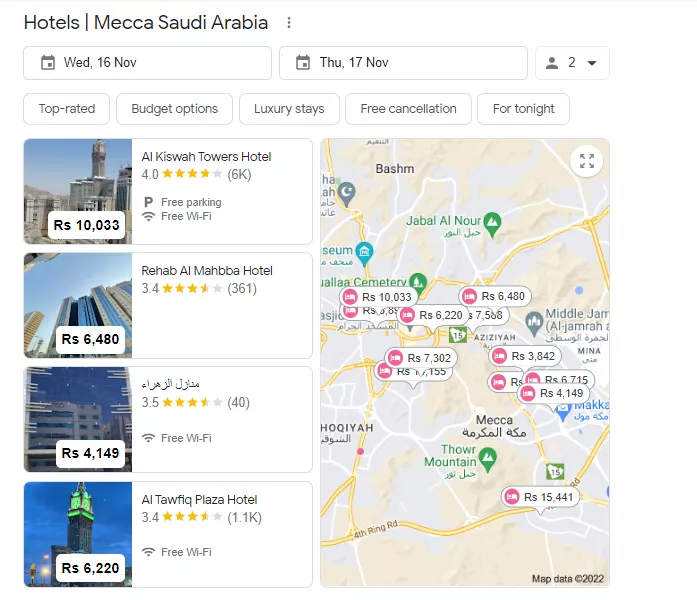 Job Listings
Google job listings collect the data from different job portals and show them in SERP. Recruiter companies may also improve the job-seeking experience of their visitors by properly adding structured data. It will also make your website eligible to get displayed in search results.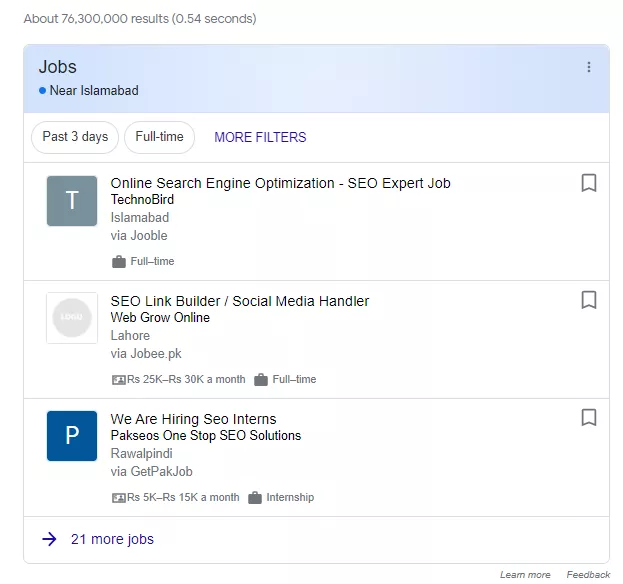 Tools to track SERP features for your website
You can also find out whether your site pages show up in these SERP features or not. Here are a few tools that will help you track this.
SEMrush Position Tracking
This tool helps you track the particular keywords that are activating the SERP features. You may also track the specific SERP feature for a specific keyword.
Moz Keyword Explorer
This tool provides a detailed and deep tracking system for SERP features. If your website gets a featured snippet, it will be ranked #1 in Moz.
SE Ranking
This tool provides detailed website data tracking like keyword research, SERP tracking, website audit, and SEO analysis. This tool is user-friendly and only requires a limited time to understand its core SEO tools and SERP tracking program.
Ahrefs Rank Tracker
Ahrefs Rank Tracker allows you to track the keywords for SERP features. If a particular search term wins a SERP feature - this tool will show it in blue.
How do you get a SERP feature?
If you want to take advantage of SERP features, make sure to structure your website content in multiple ways.
Do proper keyword research to increase your chances of winning SERP features.

Use schema markup to help Google better understand your website.

Use a combination of content types (images, videos, tables, lists, reviews, text, etc.) to increase your chances of qualifying for a featured snippet.

Create a fast-loading website

Use bullet points, small paragraphs, and FAQs to break down your page content.

Make sure to check core web vitals via Google Search Console.

Optimise and track your website content and its performance by using different tools.
Takeaway
Google SERP features are an essential part of the search engine that helps users to find the desired information quickly and conveniently. From Google ads to local map packs, each feature has its unique purpose and benefits.
By optimizing content with structured data, keywords, and other SEO strategies, businesses and individuals can improve their visibility and reach more people through Google SERP features.
As Google continues to evolve and innovate, we can expect to see new and exciting SERP features in the future.