What is Google Trends?
Google Trends is a free online tool that provides real-time data on what people are searching for. This tool was first introduced in 2006; however, the most recent version was launched in 2018.
It informs marketers about what users are searching for based on their location, time, season, and place. This data can be used to make up and implement a brilliant SEO strategy.

How Does Google Trends Work?
Google Trends provide you with data on the most recent search queries. It shows the changes in interests for various topics based on location and time.
One difference in Google Trends is that it does not show the search volume of queries like other tools. It provides data on the most recent searchers based on various factors. 
This tool shows a scale that ranges from 0-100. If a term is given a score of 1, it means it has low popularity, or enough data is unavailable for that term.
On the other hand, if a search term has a score of 100, it indicates the high popularity of that particular search term.
One of the most significant benefits you can get from Google Trends is that it allows you to see different trends while comparing them with other queries. You can compare up to five search terms at once.
This relative comparison enables you to analyze actionable insights on what your searchers or visitors are searching for online and do innovative research to analyze specific issues.
This relevant scoring system also allows you to compare different trends, even if they are unrelated.
Where Does This Data Come From?
Google mainly uses these five sources to collect data for Google Trends:
Web search

YouTube search

Image search

News search

Google Shopping
The web search option allows you to access the data from 2004. This data can compare trends for specific search terms over time. 
Now the question is, can digital marketers rely on Google's data as it provides a random sample of search data? Yes, they can definitely rely on this data. 
When you search for a particular search term, Google Trends will regulate its data by comparing the searches with the total number of searches over time and location.
For instance, if you want to know more about a search term related to "SEO" in your country, Google Trends will show you the data by dividing SEO-specific data by the total searches in your country.
Here's how Google describes it:
"Each data point is divided by the total searches of the geography and time range it represents to compare relative popularity. Otherwise, places with the most search volume would always be ranked highest."

"The resulting numbers are then scaled on a range of 0 to 100 based on a topic's proportion to all searches on all topics."

"Different regions that show the same search interest for a term don't always have the same total search volumes."
Accessing Google Trends
Go to Google Trends

Sign In to your Google account on the top right corner

Enter a search term or a keyword in Search Bar

Select your country or region in the top right corner

Explore the trends of various keywords based on a daily, monthly, and yearly basis

You can also select up to five search terms to see a comparison of different search terms over a period of time in a particular region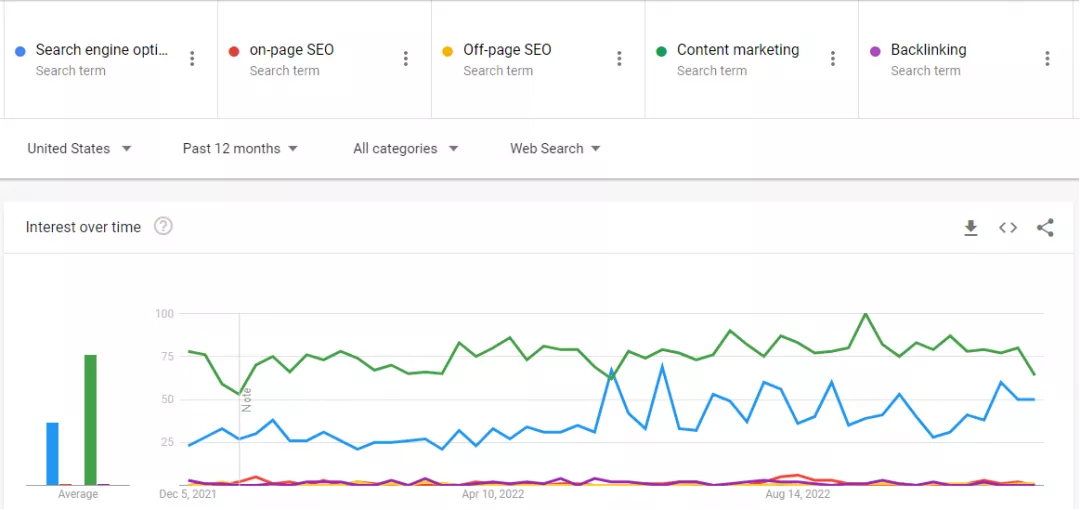 You can see the trends over different sub-regions

While scrolling down, you will also see a list of Related Search Terms that Google thinks are relevant to your searched query.

How To Use Google Trends For SEO?
There are plenty of ways by which you can use Google Trends to improve your content strategy and keyword research.
Find trending keywords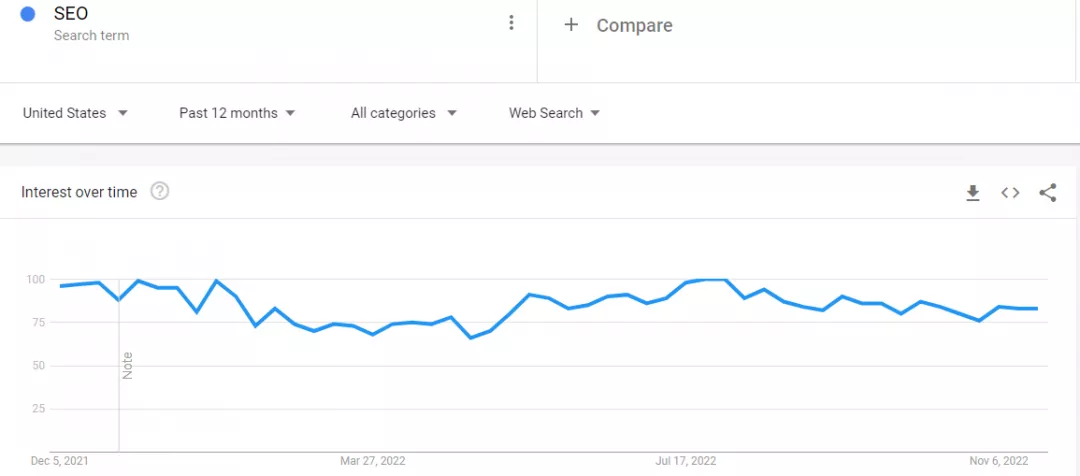 Google Trends help you find trending keywords over a period of time. You can create your content on topics that are popular among people. 
In traditional keyword research tools, you will not be able to see the trend of a particular search term. But Google Trends allow you to see the most popular keywords and their trend over time.
Similarly, you will also get data about less popular keywords – so make sure to avoid them.
However, expanding your time range from 2-4 years is recommended. It will give you a clear idea about the trending topics and avoid seasonal terms (only popular during a particular season or time of year).
Explore Related Queries
One of the distinctive features of Google Trends is its Related Queries option. You can explore it by scrolling down the Google Trends page.
Just add your keyword to the search bar and scroll down the page. You will find here the "Related Queries".
These are the keywords that are related to your search term. These are not just ordinary keywords, these are the keywords that are actually trending, and Google will also show you percentage growth in search volume.
Get Benefit of Related Topics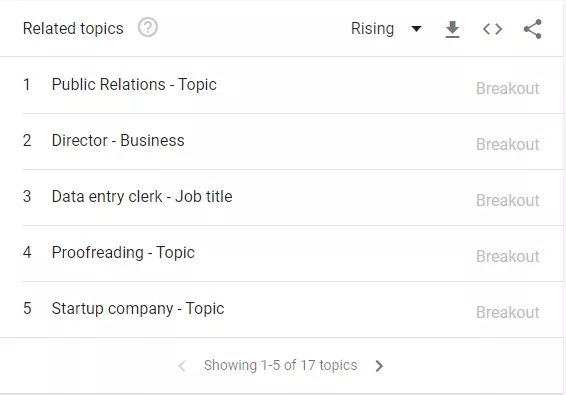 The Related Topics table is present next to Related Queries. Unlike Related Queries, which only focus on a specific search term, Related topics represent a broad topic relevant to your keyword.
You can cover as many topics as you think are related to your niche by writing blog posts, publishing articles, or making videos. 
Take Advantage Of the "Breakout" Feature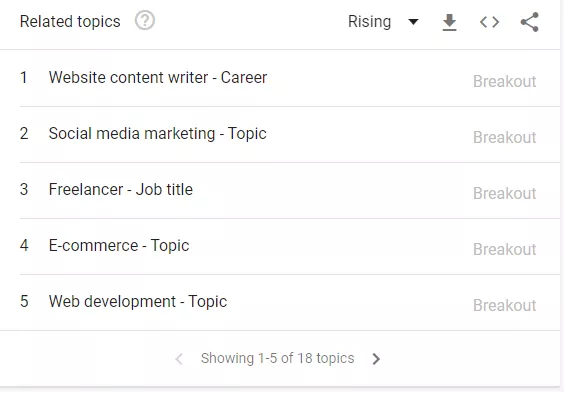 While using Google Trends, you must have noticed that a percentage increase in search volume is sometimes replaced with the word "Breakout".
Google says Breakout keywords indicate that there isn't enough data available for these keywords to calculate a precise percentage or their search has grown more than 5000%.
Breakout or rising keywords are those terms that may have seen a sudden rise in search frequency since the last time. 

Breakout keywords are the best keywords to add to a content strategy. If you haven't thought about using them, you may consider them. 
Find Keywords For YouTube Videos Optimization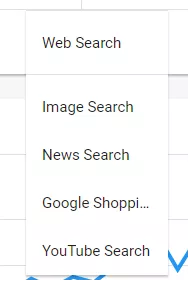 Some people think Google Trends can only be used for web searches.
However, you will find another helpful option when switching from Web Search to YouTube Search while clicking a drop-down menu. From there, you can find plenty of trending keywords to optimize your YouTube videos.
For Google Shopping
Like the YouTube Search option, you will also find another option, "Google Shopping", in the drop-down menu.
If you own a retail store, you can take advantage of this feature in different ways:
You may put your shopping items in the spotlight by doing keyword research using Google Trends. You can now run your shopping ad campaign and increase your online visibility.

You can also take advantage of the most expensive time of the year or a season and display your ads. 

Depending on your goals, you can optimize your ad campaign using Google Trends data at the right time.

This data also indicates whether the trend has changed from your goals or if you need a different strategy for your ad campaign.
FAQs
What kinds of data samples are provided by Google Trends?
Google Trends display the data in two forms:
Real-time data (usually covers the last seven days)

Non-real-time data (available up to 72 hours before your search on Google Trends and goes as far back as 2004)
How to use Google Trends?
To use Google Trends, just enter the keyword into the search bar. This will show you trends over time. Scroll down to see related topics and queries in your country or worldwide.
What are Trending Searches?
On Google Trends' Homepage, you will find the option of Trending Searches on the left side. This option shows the most popular or trending searches in real-time based on a particular country or worldwide.
How Google Trends represents data?
Google Trends represents its Relative Popularity data by dividing the searches of a keyword by the total number of searches over a particular geography in the given time range.
This data is updated on a daily basis; however, Google also warns about the inaccuracies that may occur due to several factors.
Which searches does Google filter out?
Those having low popularity as appears "0" in Google Trends

Searches repeatedly made by the same person over a short time

Searches with special characters, i.e. apostrophes, slashes, and commas
Bottom Line
Business owners, marketers, YouTubers, and researchers can take advantage of Google Trends by identifying trending topics and terms worldwide.
The most important thing is to keep up with the trends regardless of your business type. It will help you avoid being on a downward trend and stay ahead of the competition.