Key Takeaways
Google's Search Generative Experience adds playable videos to AI-generated answers for a more dynamic understanding.

Content creators benefit from increased visibility and potential traffic with playable videos and faster loading times.
Google's Search Generative Experience is undergoing further enhancements, bringing new capabilities to the AI-generated answers.
In a recent announcement, Google revealed that the AI-generated answers will now include playable videos alongside the existing images.
The addition of videos aims to provide users with a more dynamic and comprehensive understanding of certain topics.

An example of this improvement was demonstrated when Google shared a screenshot for a query on removing stains from marble.
The screenshot displayed a video embedded directly within the AI-generated answer.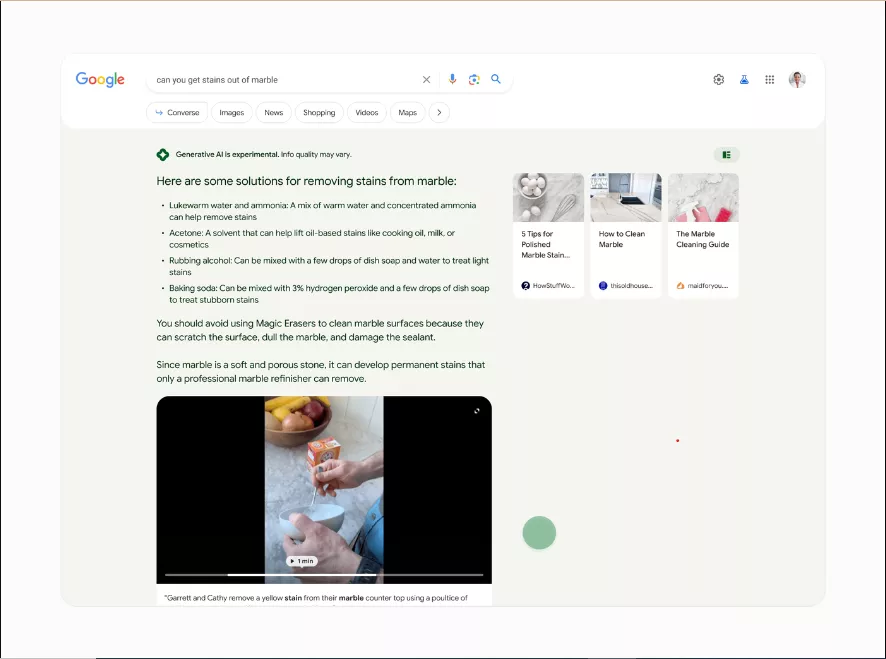 Moreover, Google has also confirmed the introduction of links within the AI-generated answers.
These links serve the purpose of providing users with access to external web pages that support the information presented in the answers.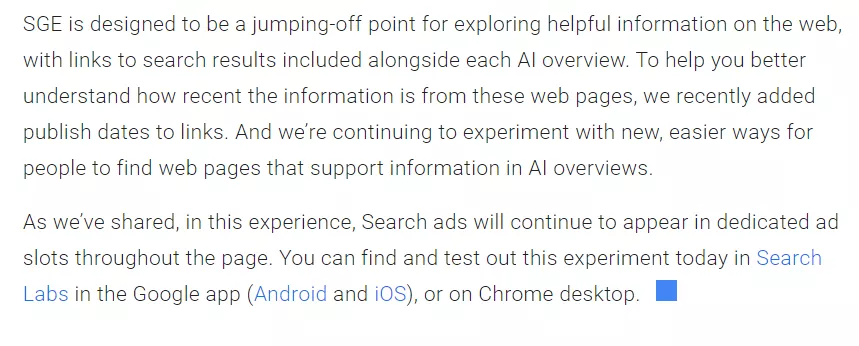 To enhance user experience and credibility, Google has thoughtfully included publishing dates for each link, enabling users to assess the recency of the information.
The company has expressed its commitment to continuously refine and optimize the speed of these AI-generated answers.
Following significant speed improvements in early June, Google plans to experiment further with simpler and more efficient ways for users to discover web pages that align with the AI-generated overviews.
The implications of these updates are significant for content creators and website owners.
With the inclusion of playable videos, creators now have the opportunity to showcase their video content directly in the AI-generated answer sections. This expanded visibility can attract more users and potential traffic to their websites.
Additionally, the presence of links within the answers can lead to increased website traffic, as users are directed to relevant external sources.
Moreover, faster loading times for AI-generated answers mean that more users are likely to engage with the content rather than skip it due to slow loading.
As a result, businesses and content creators stand to benefit from improved exposure and increased engagement with their content through Google's Search Generative Experience.