Key Takeaways
Google's search ranking algorithm experienced volatility, sparking debates in the SEO community.

Fluctuations in search results and website traffic caused by unconfirmed algorithm updates.

SEO experts are closely monitoring changes and adapting strategies accordingly.

Google has not provided official guidance, leaving the SEO community guessing.
In an unexpected turn of events, Google's search ranking algorithm experienced significant volatility over the weekend, triggering a wave of discussions and concerns among the SEO community.
Various SEO tracking tools have registered substantial fluctuations, indicating a noteworthy shift in search results.
Although there has been no official confirmation from Google regarding any specific updates, recent unconfirmed updates have added fuel to the speculation surrounding the recent algorithm changes.
However, it is worth mentioning that the previously addressed bug related to Google News indexing is unlikely to be connected to the current search ranking volatility.
Prominent SEO tracking tools such as Semrush, SERPmetrics, and RankRanger, among others, have been diligently monitoring search rankings over the past month.
These tools have observed a gradual increase in volatility, with the most pronounced fluctuations occurring during the weekend.
The SEO community, always vigilant when it comes to changes in search algorithms, has taken notice of these developments and has been actively discussing the impact.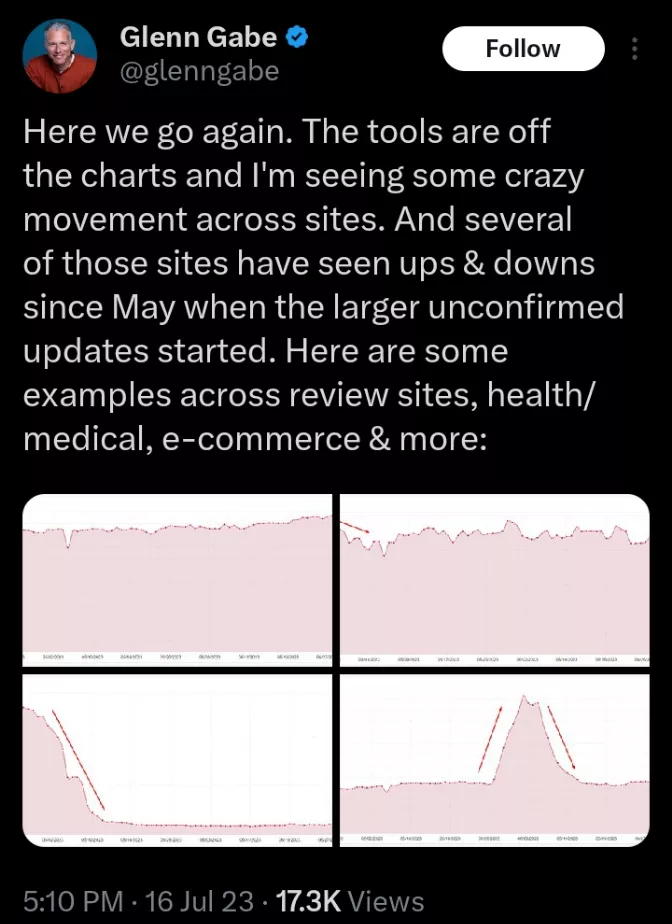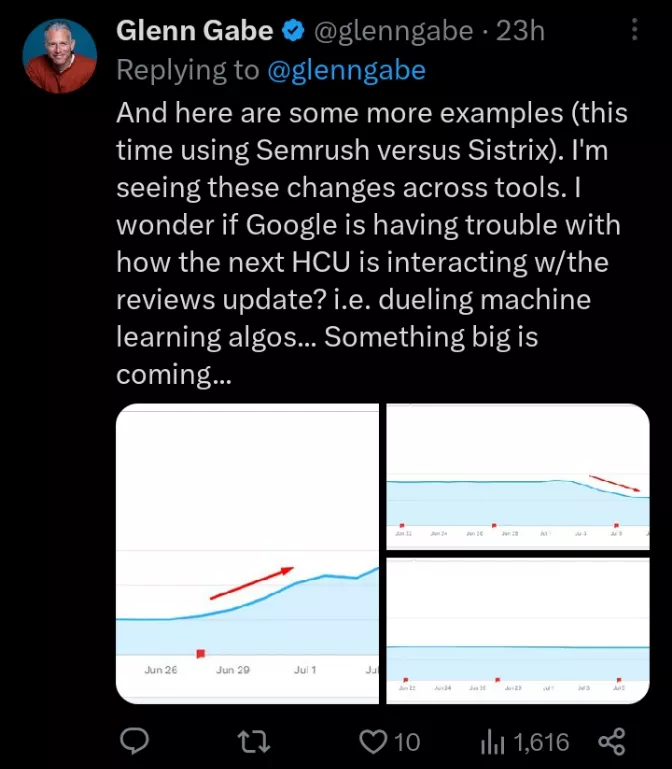 Reportedly, some websites experienced sudden drops in traffic, while others witnessed significant shifts in their top referring terms.
Furthermore, fluctuations have been noted in the popularity of individual pages, leading some to believe that search results are reverting back to their state from a month ago.
The exact cause and full impact of these recent search ranking fluctuations remain unclear. SEO experts and website owners closely monitor these changes and adapt their strategies accordingly.
The sudden volatility in search rankings serves as a reminder that the digital landscape is constantly evolving, and staying ahead requires vigilance and adaptability.
As of now, Google has not released any official statement or guidance regarding these algorithmic changes.
Barry Schwartz also responded to a tweet clarifying that it's an unconfirmed update while keeping the SEO community guessing.
However, given the significance of the fluctuations and the discussions taking place within the SEO community, it is crucial for those affected to remain proactive and responsive to these evolving search results.
Among all the algorithm updates this month, the past weekend's "unconfirmed" updates brought about substantial volatility in Google's search ranking, leading to fluctuations in search results and sparking discussions among the SEO community.
The impact of this update over the weekend has registered unprecedented levels of activity on various SEO tracking tools too.