Key Takeaways
Google's Bard AI will integrate directly with Google Tools and third-party services, expanding its capabilities.

Bard previously relied on cached web page data, but this limited its access to up-to-date information, such as fluctuating prices or availability of plane tickets.

Users will have control over the enabled extensions and their privacy settings, ensuring a personalized and secure experience.
Google has announced plans to further enhance Bard by enabling direct integration with its own services such as Google Maps, Google Flights, YouTube, and various third-party services.
Up until now, Bard has been using information pulled from websites that have been cached by Google Search. This means it has been retrieving data stored by Google from web pages to answer queries or provide information.
However, there are limitations with this method as it might not access the most up-to-date data, like fluctuating prices or availability of plane tickets which can't be cached effectively.
Therefore, Google is planning to directly integrate Bard with Google's own tools along with third-party services.
This integration is aimed to make the Bard experience more enriching, as it will be able to tap into the capabilities of various Google apps and services that users are already familiar with.
Furthermore, the user's privacy settings will be respected, ensuring that they control how these tools and extensions are used.
Google also announced an extension with Adobe, particularly Adobe Firefly, a creative generative AI model.
This integration will allow users to turn their creative ideas into high-quality images, which can then be edited or added to their designs in Adobe Express.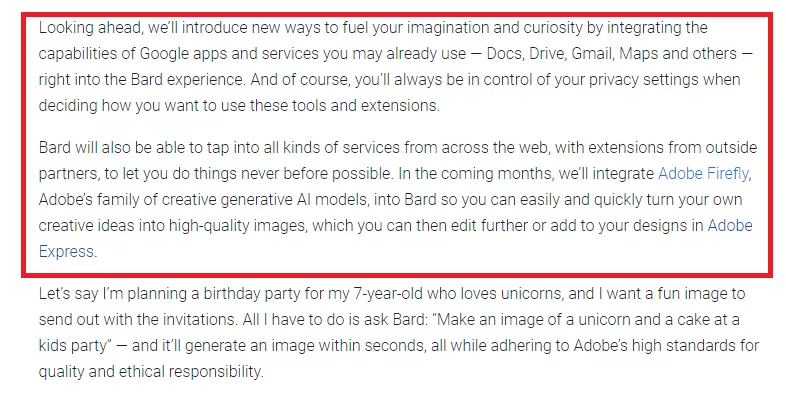 Bard might be launching with as many as nine "Extensions". These include Google's own services like Google Flights, Google Hotels, Google Maps and YouTube, as well as third-party services like Instacart, Kayak, OpenTable, Redfin, and Zillow.
Some of these services overlap, for example, Kayak and Google Flights both offer flight booking services.
These services will be accessible from a new Extensions menu, identified by a puzzle-piece icon, and will offer users the ability to enable or disable particular services. Here, users can also learn how to use each Bard Extension with provided examples.
Google is also preparing a Workspace extension for Bard, which would allow the chatbot to access your Google Docs, Drive, and Gmail.
This would enable Bard and Google Workspace to share data to complete your requests. As with other extensions, users would be able to unlink them at any time.
The addition of these new features to Bard positions it at a similar level to ChatGPT in terms of functionality and capabilities.
Just like Bard, ChatGPT is also currently in the process of introducing its own set of plugins, including options from Kayak and Instacart.