Key Takeaways
Google Merchant Center warns against "inappropriate titles".

Non-compliant titles risk penalties, resulting in limited US visibility.

Advertisers must follow Google's standards, avoiding offensive language and excessive details.
In a recent move, Google Merchant Center has issued a warning regarding "inappropriate titles" affecting product visibility on Google Discover and Demand Gen ads within the US market.
According to a screenshot of the warning, product titles failing to meet Google's criteria will be penalized with restricted visibility in the United States.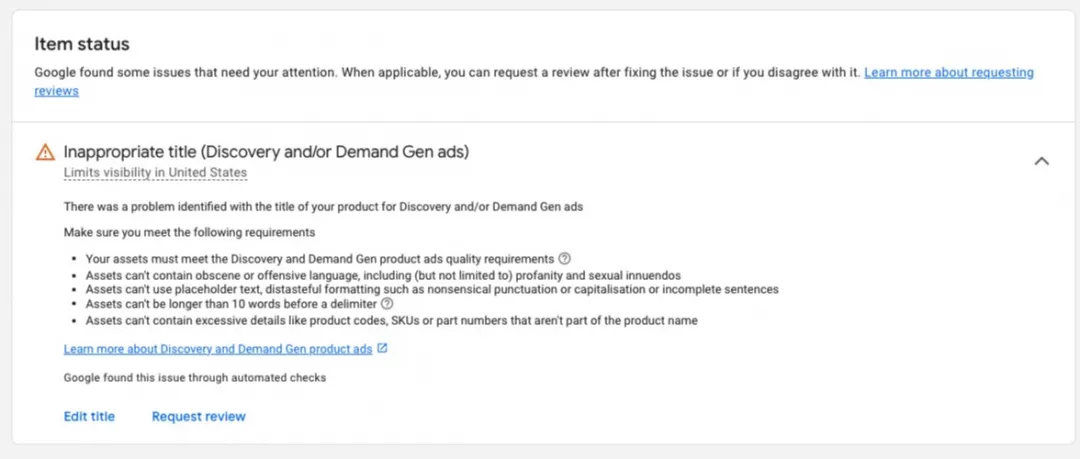 This could have severe consequences for advertisers, leading to reduced campaign reach and potential harm to revenue and ROI.
The penalty removal process might also prove to be time-consuming, causing a long-term impact on account visibility.
To avoid facing Google's penalty, marketers must ensure that their product titles adhere to specific requirements.
These include meeting Discovery and Demand Gen product ads quality standards, refraining from using obscene or offensive language, avoiding distasteful formatting like nonsensical punctuation or capitalization, and ensuring titles are concise (not exceeding 10 words before a delimiter).
Additionally, product titles should not include excessive details such as product codes, SKUs, or part numbers that are not part of the actual product name.
The warning has raised concerns among advertisers, with Google Ads eCommerce expert Dennis Moons flagging the issue on X.
Numerous other marketers have also reported experiencing similar situations.

Some have speculated that the warning might be mistakenly issued to product titles that are innocuous, labelling it a potential "bug." Nevertheless, Google has yet to respond to these concerns.
As advertisers strive to maintain optimal visibility for their campaigns, complying with Google's product title requirements becomes crucial.
By adhering to the specified guidelines, businesses can avoid potential penalties and maintain their online presence effectively.