Key Takeaways
Google's AI language model, the Bard, expands to over 40 languages and new regions, overcoming challenges in Europe.

New features include conversation organization, image prompts, shareable links, listening capability, and response customization.
Google has made the latest update regarding its AI language model - Bard - which is now accessible in over 40 languages, including Arabic, Chinese, Hindi, and Spanish.
Furthermore, Bard is now accessible in additional geographical regions, including Brazil and various countries across Europe.
The expansion into Europe is particularly noteworthy because the introduction of generative AI technologies has faced challenges in this region.

However, Google attributes its successful entry into Europe to its recent commitment to engaging with the AI community and promoting responsible AI practices.

What's New?
The new features introduced in Bard further enhance its usability and functionality.
Users can now pin and rename conversations, allowing them to organize and revisit past prompts and questions more conveniently.
Exporting code generated by Bard has also been extended to additional platforms, such as Replit, in addition to the previously supported Google Colab.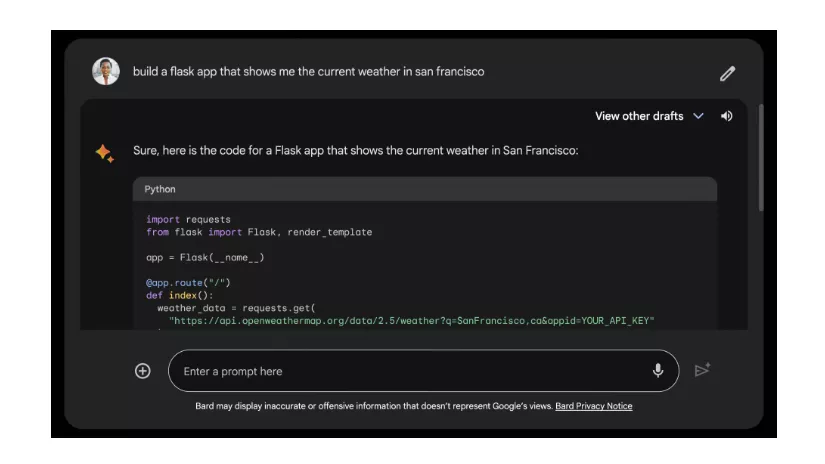 Another notable feature is the integration of Google Lens, which enables users to utilize images as prompts. By uploading images, Bard can analyze the visual content and generate relevant responses. Although this feature is currently available in English, Google plans to expand it to other languages in the future.

Sharing answers has become easier with the introduction of shareable links in Bard. Users can now easily share their responses and answers with others, facilitating collaboration and knowledge sharing.

To aid pronunciation learning or enjoy audio-based content, Bard now includes a listening capability. Users can listen to Bard's responses by utilizing a sound icon, which can be helpful for language learners or individuals interested in experiencing audio content such as poems or scripts.

Additionally, users now have the option to adjust the tone and style of Bard's responses. The five available options include simple, long, short, professional, and casual.

This feature provides users with more control over the generated output, allowing them to tailor Bard's responses to their specific needs.
These new features and the expanded availability of Bard are significant for users who rely on generative AI tools.
Takeaway
Bard has proven to be a valuable resource, along with other similar models like ChatGPT and Bing Chat.
The extensive expansion, including support for multiple languages and regions, along with other productivity features and customization options, demonstrates its evolution into a versatile assistant catering to a global audience.
This remarkable expansion of Bard signifies a bold initiative to enhance conversational AI - making it more valuable and accessible for collaboration.