Key Takeaways
Site names in title tags are not strictly necessary for SEO, according to Google's John Mueller.

Including the site name aids in identification and branding, but there's no definitive rule.
In a recent discussion on Mastodon, Google's John Mueller shed light on the topic of whether website owners should include their site names in the title tags of their web pages.
Contrary to popular belief, Mueller stated that it shouldn't be considered a strict SEO decision. While he expressed a preference for having the site name in the title, he clarified that there is no definitive rule governing this aspect.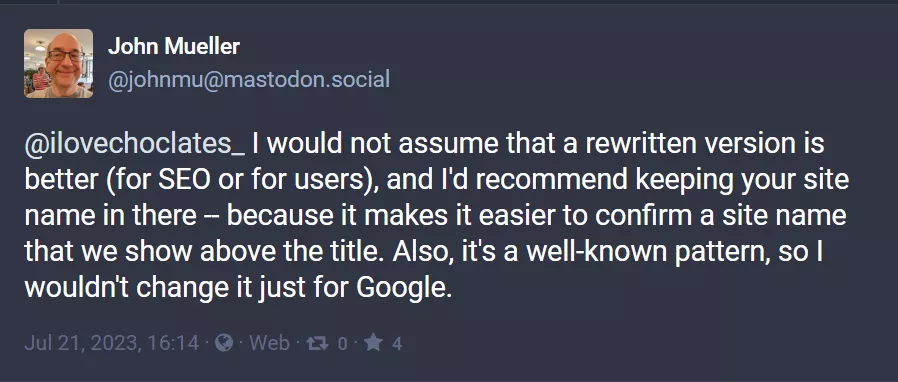 Addressing concerns about the potential impact on search engine optimization, Mueller cautioned against assuming that rewriting title tags without the site name would necessarily improve SEO performance or enhance user experience.
He recommended retaining the site name in the title, citing that it facilitates easy identification and branding, as Google often displays it above the title in search results.
In another instance, Mueller also stated that putting company or brand names in titles is perfectly acceptable.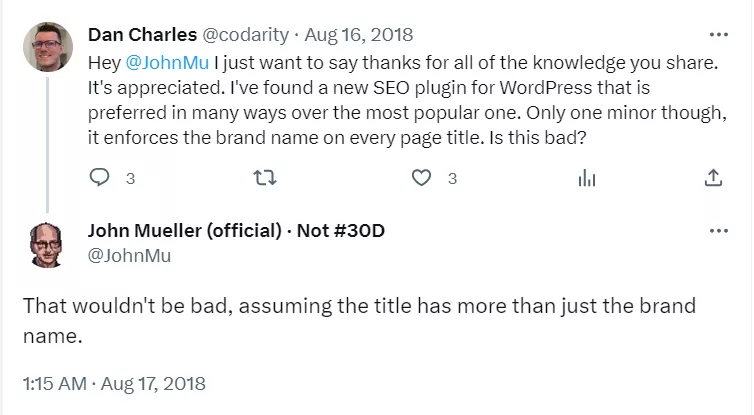 Looking at Google's stance on the matter, the search engine giant has clarified on another occasion that when it modifies a page's title in search results, it doesn't imply any quality issues with the website.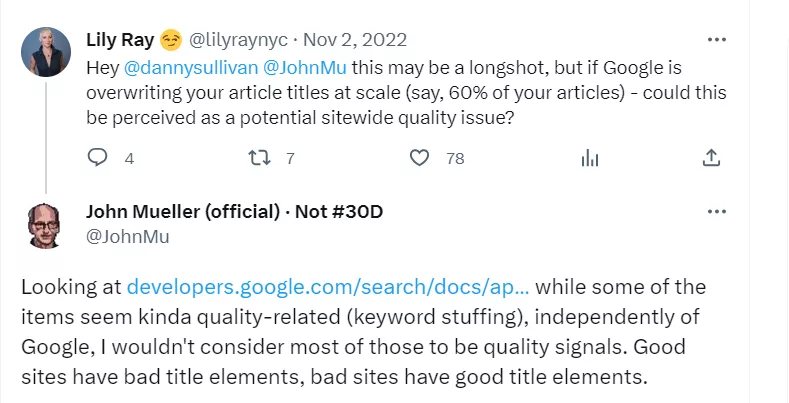 So, it is not advisable for website owners to blindly alter their title tags to match Google's version.
I think we touched upon this briefly it's it still matters the title tag still works for ranking purposes. Changing it to what Google has selected from from my point of view doesn't automatically make sense because just because one algorithm selects something as a title doesn't mean it's a better title. But maybe there are cases where Google's algorithms have selected a better title and where it makes sense to kind of go in that direction. But there are certainly also situations where maybe Google's algorithms select the a worse title and where you want to keep the one that you had there or maybe you even want to improve the one that you had previously. So I wouldn't just blindly use what we show in search and say that's got to be the best title because Google's algorithms know everything better. And it's not the case that Google's algorithms know everything better.