Key Takeaways
Google acknowledges AI chatbot content's impact on search and offers advice.

Google suggests allowing AI content but being able to block specific parts for indexing.
The rise of AI chatbots has caught Google Search's attention as more AI-generated content finds its way online.
Instances are increasing where AI chatbots independently produce content, prompting action for those wanting to avoid Google's indexing.
John Mueller from Google shared advice on Twitter. He suggested,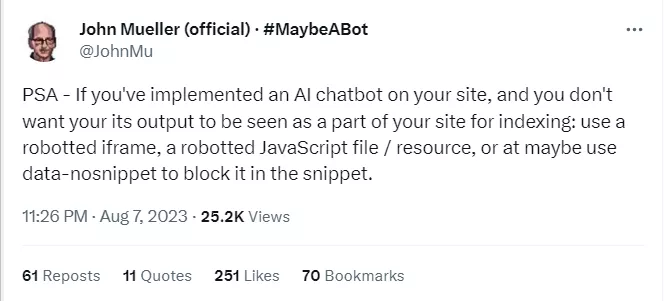 Utilize a roboted iframe, which is an HTML element enabling you to insert an external webpage within your own. By applying the noindex attribute to the iframe, you can prevent Google from including the embedded page's content in its index.

Employ a roboted JavaScript file or resource. You can similarly employ the noindex attribute for JavaScript files or other resources linked to your chatbot. This action will stop Google from indexing the content contained in those files.

Make use of the data-nosnippet attribute. This attribute is effective in halting Google from displaying a preview snippet of your chatbot's responses in search results.
It's important to note that Mueller isn't suggesting that making your AI chatbot content discoverable through Google Search is unfavourable.
He is simply saying that if you don't want that content to be indexed, you can use one of these methods to block it.
There are a few reasons why you might want to block Google from indexing your AI chatbot content.
For example, you might not want your chatbot's output to be used in search results without your permission. Or, you might want to prevent Google from learning from the conversations that your chatbot has with users.
Ultimately, the decision of whether or not to block Google from indexing your AI chatbot content is up to you. But if you do decide to block it, Mueller's advice is a good place to start.