What is Google Business Profile?
Google Business Profile, formerly known as Google My Business, is a service provided by Google that allows businesses to register and create an online listing for their company.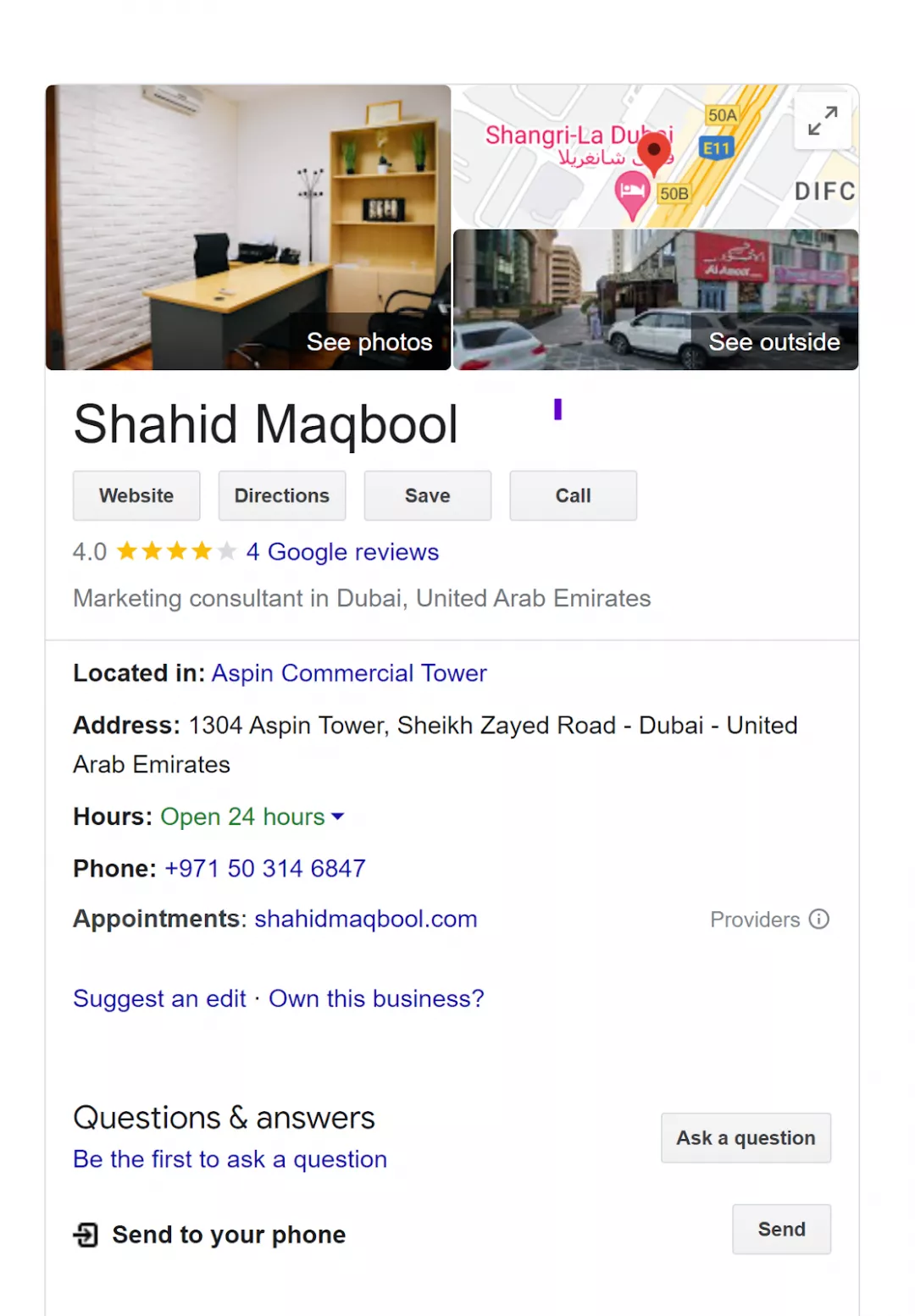 By registering, businesses gain visibility on Google Search, Google Maps, and Google Shopping, appearing in search results when users search for their brand name or similar brands/services. 
It serves as a comprehensive tool for managing and optimising the Business Profile on Google, which is a basic listing among various important business directories.
What has changed in Google Business Profile?
On November 2021, Google announced the renaming of Google My Business to Google Business Profile.

This rebranding was undertaken as part of Google's broader initiative to streamline the platform and enhance its user-friendliness for businesses managing their profiles.
The changes brought about in this tool allow businesses to manage their information and resolve issues directly from search conveniently. 
In addition to the existing feature of editing Business Profile information from search, you can now complete verification or address other profile-related concerns directly on Google Search or the Google Maps app. 
When searching for your company's name, you will find options to verify your Business Profile or resolve issues such as profile suspensions. 
Moreover, you can edit the information displayed to users, including your address, business hours, make posts, respond to reviews, and more. 
These updates empower businesses to efficiently set up and customize their business profiles directly on Google Search and Maps. 
Additionally, you can also easily check if your profile is publicly visible.
Why is it important to use for local businesses?
A Google Business Profile is a vital tool for businesses to showcase their existence, build credibility, and effectively communicate with potential customers. 
Here's why is it important:
Establishing existence
A Google Business Profile allows you to demonstrate your presence to potential customers. By having a visible and accurate online listing, you increase your chances of being found and considered by individuals actively searching for products or services like yours.
Building credibility
A complete and well-maintained Google Business Profile adds credibility and legitimacy to your business.
It shows that you are a verified entity, which instils confidence in potential customers and encourages them to engage with your brand.
Informing about products or services
Your business profile provides an opportunity to inform potential customers about what you do or sell.
Utilize the profile to present your unique selling points, highlight key offerings, and differentiate yourself from competitors, ensuring that potential customers understand your value proposition.
Providing location and directions
The Business Profile allows you to share your address and provide clear directions, enabling potential customers to easily locate and visit your physical establishment.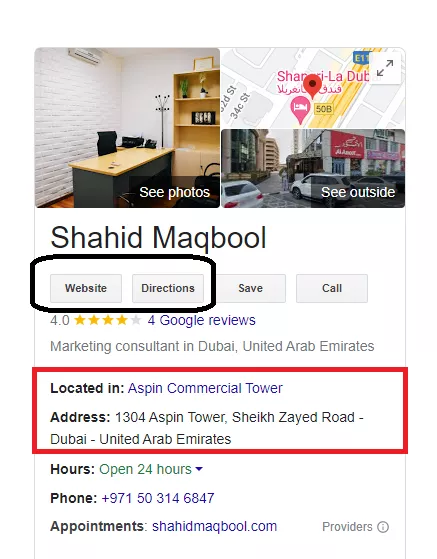 Displaying business hours
By including your days and hours of operation on your Business Profile, you help potential customers know when you are open for business.
This information helps them plan their visit or contact you during your operational hours, leading to increased convenience and improved customer experience.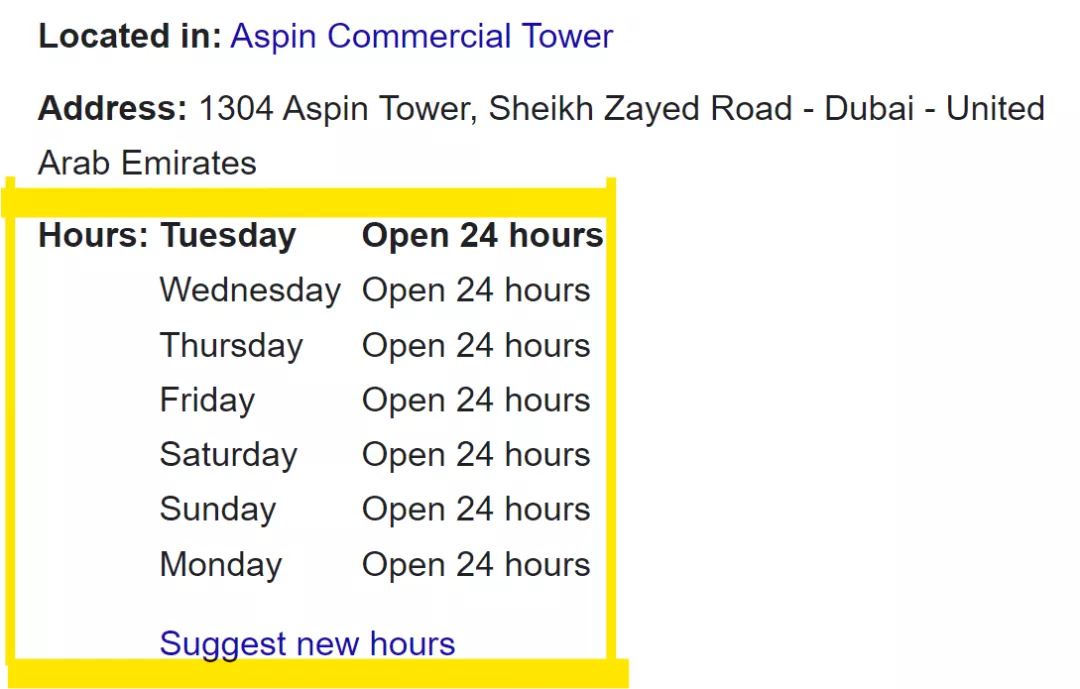 Showcasing customer reviews
A Google Business Profile enables you to showcase reviews from current and past customers. Positive reviews and ratings can significantly impact the decision-making process of potential customers.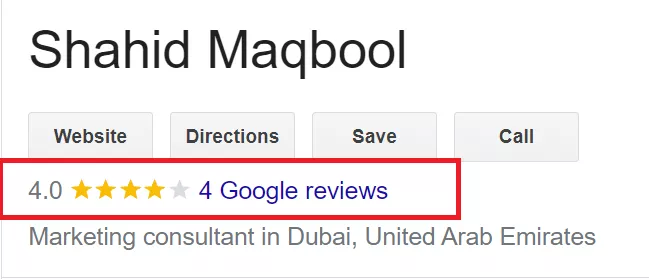 Customizing additional information
The Business Profile allows you to share any additional details or updates about your business that you deem important.
This could include special promotions, upcoming events, or any unique features that set you apart from competitors, giving potential customers more reasons to choose your business.
Driving traffic to your website
A Google Business Profile serves as a gateway to your website. By including your website link, you can attract potential customers to explore your website further.
Why a complete and updated profile is necessary?
Google Business Profiles offer significant advantages for local businesses aiming to enhance their local SEO rankings and attract local clients. 
Claiming and optimizing your Google Business Profile is a crucial local SEO strategy. 
However, claiming the profile is just the initial step; regular optimization, monitoring, and updating of the Business Profile with fresh information are essential.
An up-to-date and complete profile is vital for achieving success. In Google Business Profile Help, it is stated what benefits you can have with a complete profile.
When you complete your profile:

Customers are 2.7 times more likely to consider a business reputable if they find a complete Business Profile on Google Search and Maps.

Customers are 70% more likely to visit and 50% more likely to consider purchasing from businesses with a complete Business Profile.
How to create a Google Business Profile?
To create a Google Business Profile, follow these steps:
Sign in to your Google Account on your computer, or create a new Google Account if you don't have one. If creating a new account, use your business email domain for a more professional appearance.

Go to the Google Business Profile creation page.





Enter the name of your business. As you type, you may see suggestions for your business from a provided list.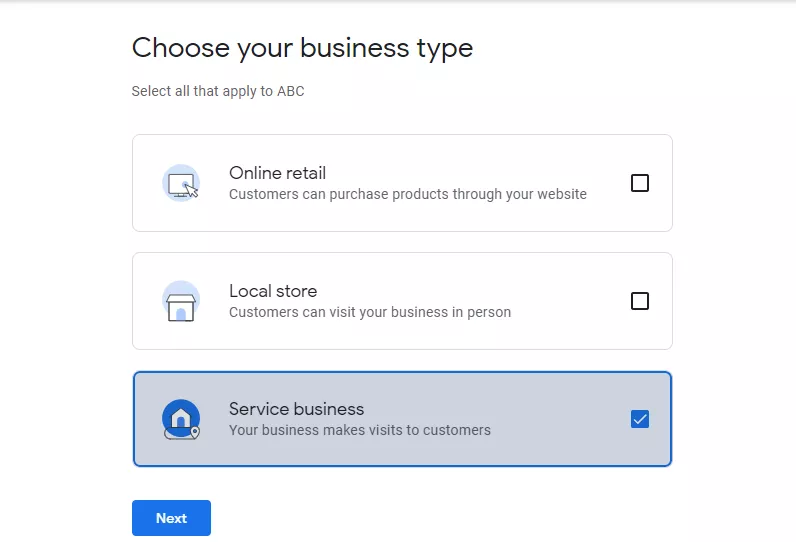 Search and select the appropriate category that best represents your business.

Click "Next."

Determine if your business has a physical location that customers can visit. If it does, select "Yes." You may need to provide your business address or position a marker on a map to indicate its location. Once done, click "Next."

If your business doesn't have a physical location for customers to visit, select "No." Instead, enter the service area of your business. You can specify cities, postal codes, or other relevant areas that you serve. You can add up to 20 service areas.

Enter your business phone number and website URL. It's recommended to provide a specific phone number or store page for each location instead of a remote call centre.

Click "Next."

You have the option to create a website based on the information you provided.

Finally, click "Finish" to complete the process.
Add your business through Google Maps
Google also gives you another option for adding your business, that is through Google Maps.
Sign in to Google Maps on your computer.

There are three ways to add your business:

Option 1: Enter your business address in the search bar. On the left side, you will see the Business Profile panel. Click on "Add your business."

Option 2: Right-click anywhere on the map. A menu will appear, and you can select "Add your business."

Option 3: Click on the menu icon (three horizontal lines) in the top left corner, then click "Add your business."

Follow the on-screen instructions provided to complete the process of signing up for your Business Profile.
Verify it
Verifying your business profile is a crucial step that holds significant importance.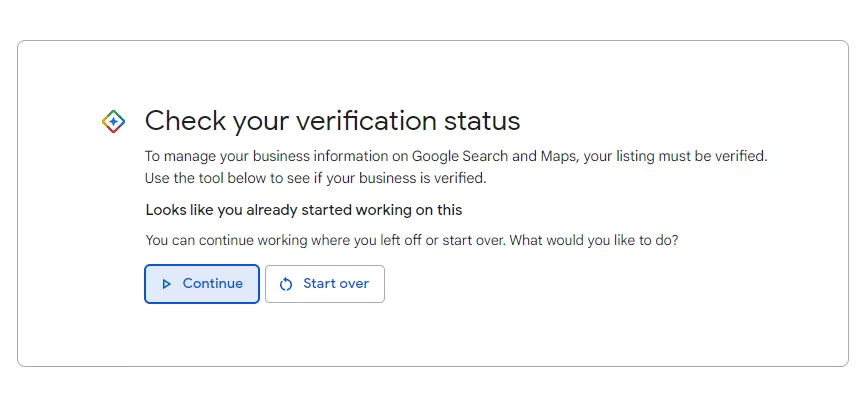 This process allows Google to validate the authenticity and legitimacy of your business, instilling trust and confidence in potential customers.
The verification process is typically quick and straightforward, involving methods such as a phone call, triggered email, or even a postcard.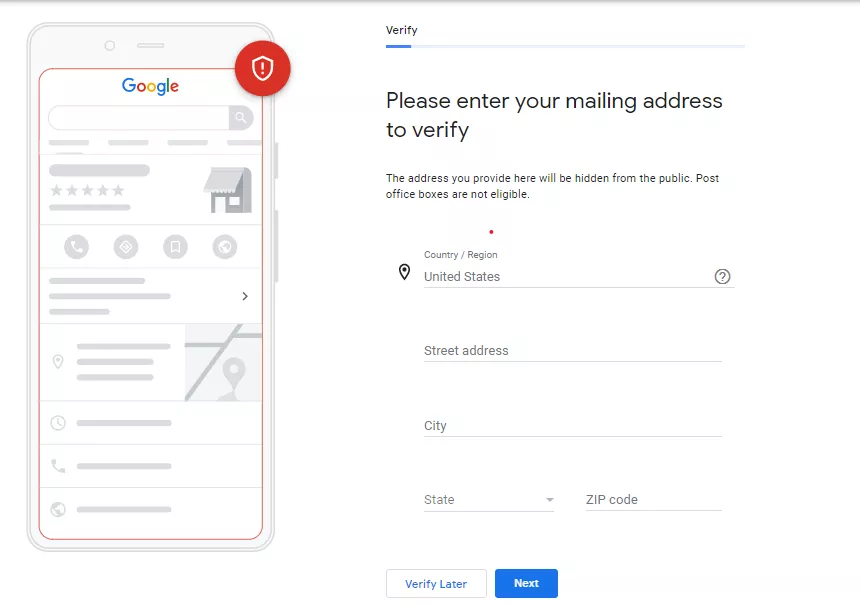 Once successfully verified, your business listing will be marked with a distinctive blue icon, serving as a clear indication to users that your profile has undergone the verification process.
Claim your business
There are two ways you can claim your business.
Method 1: Go to GBP account creation
Visit the business.google.com/add on your computer.

Enter the name and address of the business you want to claim ownership of.

Choose the correct business from the search results that appear.

From here you can find "Manage Now"

You will have to verify the information following the steps to claim the business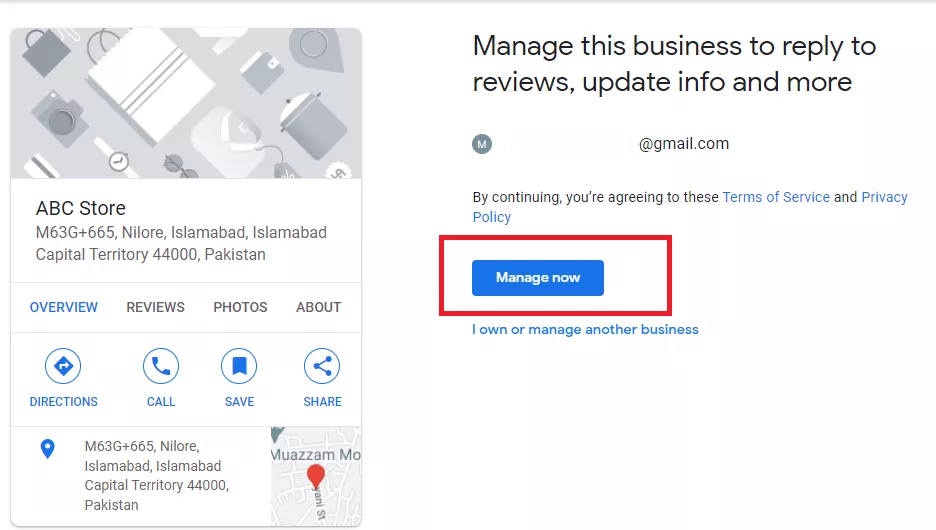 Method 2: Find your business on Google Search or Google Maps
Perform a search on Google Search or open Google Maps.

Enter the name of the business you wish to claim ownership of.

Locate the Business Profile among the search results or on the Google Maps interface.

Under the Business Profile, click on the "Claim this business" option.

Next to it, you'll go to "Manage Now' and follow the same procedure as Method 1.
After verifying and claiming your business profile, you'll gain access to your Google Business Profile Manager dashboard.
From there, you can manage your business listing, update information, and utilize other features to enhance your online presence.
Follow the guidelines
According to Google's guidelines, to create a successful Business Profile on Google without the risk of suspension, it is crucial to follow the guidelines provided.
Avoid prohibited content, accurately reflect your business, and comply with Google's policies. 
Maintaining high-quality information is essential, so it's important to represent your business consistently with its real-world branding, ensure accurate addresses or service areas, and choose the most relevant categories. 
Having multiple profiles for the same business can cause issues with how your information appears on Google Maps and Search. 
It's worth noting that Business Profiles are not eligible for online-only businesses, brands, organizations, or artists. 
Note: Read through this article to get further reasons behind your account's suspensions.
Managing your profile
You can manage your Google Business Profile through the following ways.
Manage multi-Location businesses with the Google Business Profile Manager
For businesses with multiple locations or agencies handling multiple client locations, efficiently managing profiles is paramount. 
The Business Profile Manager dashboard offers the ideal solution, providing a centralized platform for the streamlined management of multiple profiles.
By logging into the Business Profile Manager, businesses and agencies gain enhanced flexibility and convenience. 
This comprehensive dashboard empowers users to efficiently oversee and update multiple profiles within a single interface. 
Rather than navigating between individual profiles, the Business Profile Manager allows for consolidated management, saving time and effort.
Manage single-location businesses with Google Search or the Google Maps App
Managing your Google Business Profile for local businesses with a single location has become incredibly convenient through the use of Google Search or the Google Maps app.
For businesses that typically have Google Search open on their computers throughout the day, profile management becomes seamless.
By logging in with the Gmail address associated with the Google Business Profile, businesses can effortlessly access their profile for editing and updates.
All they need to do is type in their business name in the search bar or enter the words "my business" to bring up the Knowledge Panel and edit panel, providing direct access to profile management.
Whether through Google Search or the Google Maps app, businesses enjoy various editing capabilities to make necessary changes to their profile.
The Knowledge Panel offers an "Edit Your Business Information" link, enabling quick edits to basic profile details. 
Categories, business descriptions, opening dates, hours, and more can be modified to ensure accurate and up-to-date information.
Moreover, you can create update posts directly from Search if the "Update Your Customers" option is available in the Knowledge Panel.
This feature allows you to share timely updates, promotions, or important announcements with your audience.
In addition to the Knowledge Panel, the left-hand side edit panel provides further editing options. 
Clicking on "Edit profile" grants you access to a range of choices for modifying your profile, empowering them to make comprehensive changes as needed.
Optimizing your profile
Optimizing your Google Business Profile is crucial for maximizing your online presence and attracting potential customers. 
Optimizing dashboard features
You have various dashboard features that you can utilize to optimize your profile.
Business Information
The information section of your Google Business Profile is where you can provide essential details about your business, such as its name, address, phone number, and operating hours. 
It's important to keep this information up to date, especially if there are any changes, whether they are permanent or temporary.
Interestingly, Google often sends email reminders to prompt you to update your holiday hours, ensuring that customers have accurate information.
During the COVID-19 pandemic, Google made adjustments to the info section to accommodate additional details. 
You now have the opportunity to inform customers about the precautions you are taking at your business to ensure their safety, as well as any restrictions you may have, such as offering only takeout or curbside pickup.
Products and services
In the dashboard of your Google Business Profile, there are two sections that provide you with an opportunity to inform potential customers about your offerings and highlight what makes your products or services stand out. 
It is crucial to update these sections whenever you add a new product or service or stop offering a particular item.
By keeping this section up to date, you can effectively communicate to customers what you sell and emphasize the unique qualities of your products or services
If your business operates by appointment scheduling, you can also include a URL in this section. By doing so, you make it convenient for potential customers to book appointments directly through the link provided.
Calls and messages
Google can track calls and messages that come to your business through its platform. 
This tracking feature offers valuable insights into potential customers, allowing you to gather information about leads generated through Google and enabling you to follow up with those who were unable to reach a person initially.
The calls feature displays missed calls based on the day of the week and the time of day, helping you identify busy periods when it is crucial to have someone available to answer incoming calls. 
This information allows you to ensure sufficient phone coverage during peak times.
Insights
Google Business Profile provides a user-friendly analytics dashboard called Insights. This dashboard offers valuable information about how people are discovering your business, giving you a clearer understanding of your audience reach. 
"Insights" allows you to identify who is finding your business and who is not, enabling you to make informed decisions to improve your online presence.
One useful feature of Insights is the ability to see the percentage of people who found your business by searching specifically for your company name compared to those who found you by searching for your products or services. 
This information helps you gauge the effectiveness of your branding efforts and the visibility of your offerings in search results.
Posts
Google Posts provide an excellent platform for informing customers about new offers and showcasing the strengths of your business.
By creating posts, you can promote sales, discounts, seasonal events, and other special offerings, attracting new customers and generating business opportunities. 
When users come across your business on Google, they will also see your recent posts, making it essential to craft attention-grabbing headlines that capture their interest. 
Utilizing Google Posts can help you engage with potential customers, drive traffic to your business, and increase your chances of gaining new customers.
Reviews
The reviews section of Google Business Profile holds significant importance for your business. Here, you can access and view customer reviews of your business, as well as respond to them.
While it may seem logical to only respond to negative reviews to address concerns, it is actually beneficial to respond to both positive and negative reviews. 
By responding to positive reviews, you can show appreciation to satisfied customers, reinforcing their positive experience and building customer loyalty. 
Similarly, addressing negative reviews allows you to acknowledge any issues raised by customers and demonstrate your commitment to resolving problems and providing excellent customer service.
How to manage them?
Handling customer reviews on Google requires a strategic approach. Firstly, avoid arguments and instead apologize sincerely for any negative experiences, demonstrating your commitment to improvement. 
Offering solutions showcases your dedication to customer satisfaction.
Keep responses concise and consistent, expressing gratitude to loyal customers.
Pay attention to recurring criticisms and use them as opportunities for business improvement. 
Effective management of Google reviews helps maintain a positive reputation and fosters ongoing growth for your business.
Other functions
Google Business Profile offers additional functions to enhance your online presence, including adding users, creating a dedicated website, obtaining a custom Gmail account, and advertising with Google.
These features expand your capabilities, streamline management, and amplify your digital marketing efforts.
Optimizing for SEO in general
You can also optimize for SEO by utilizing some more practices.
Engage with consumers
Your Google My Business account allows you to actively engage with consumers who interact with your Business Profile in various ways. 
You can respond to reviews, address questions, enable direct messaging for easier communication, and set up alerts to stay informed. 
Additionally, Google My Business enables you to publish posts to your Business Profile, similar to how you would on social media platforms like Facebook. 
These features empower you to foster customer engagement, provide timely responses, and effectively manage your online presence.
Target your information
When utilizing Google My Business for SEO purposes, it is essential to incorporate relevant keywords into your Business Profile. 
This helps communicate to Google the specific topics or areas you want to rank for in search results. 
You can include these keywords in various sections, such as the "from the business" description, your responses to reviews, answers to customer questions, and the posts you publish. 
It is crucial to use these keywords naturally and organically, just as you would with any other SEO strategy.
Maintain quality of information
As discussed above, the completeness and accuracy of your Business Profile play a crucial role in its ranking on Google. 
To optimize your profile, ensure that you provide all the requested information in every section of your Google My Business dashboard.
Pay particular attention to key details such as contact information, special hours, and attributes.
Can Google Business Profile be suspended?
Here are some brief explanations for each reason why a Google My Business (GBP) account may be suspended.
That might also include points that many SEOs stress upon but Google does not directly state them in the guidelines.
Making multiple updates
Making too many updates to your GBP listing at once can raise suspicion and trigger a suspension. It's best to make changes gradually.
Keyword stuffing
Stuffing your business name with excessive keywords is not a good practice at all. Your business name should accurately represent your brand without excessive keyword usage.
P.O. Box or UPS store address
Google requires businesses to use a physical address for their listings. Using a P.O. Box or UPS store address can result in a suspension.  This ensures that customers receive accurate directions and contact information, fostering trust and credibility in your business.
FYI: UPS is United Parcel Service, a global package delivery and supply chain management company. They offer shipping, tracking, and logistics solutions worldwide. They have physical stores called UPS Stores that provide services like shipping, printing, and packaging. However, Google requires businesses to use a physical address instead of a UPS store address when creating a Google Business Profile to ensure an accurate location for customers.
Virtual office or co-working space address
If you set up your profile listing with a virtual office or co-working space address instead of a genuine business location, it may lead to a suspension.
Service-area business with a physical address
If you have a service-area business but display a physical address publicly, it can raise concerns and potentially result in a suspension.
Online-only business
Google My Business is designed for businesses with a physical presence. Online-only businesses are not eligible for a GBP listing and may face suspension.
High-risk business category
Certain business categories, such as lawyers, plumbers, HVAC, locksmiths, and rehab centres, are considered high-risk. These businesses may be subject to additional scrutiny and higher chances of suspension.
Shared address with another business
Sharing the same address with another business can cause confusion and may lead to a suspension. Each business should have a unique address.
Excessive changes/edits
Making a large number of changes or edits to your GMB profile in one sitting can also trigger suspicion and potentially result in a suspension. It's advisable to make updates gradually.
URL forwarding/redirecting
Adding a URL to your GMB profile that redirects to another website or links to a social media page can lead to a suspension.
Changing from storefront to service area business
If you change your listing from a physical storefront to a service area business (SAB) without providing a physical address, it can raise concerns and result in a suspension.
Inconsistent address or hours
If your business address or hours listed on your profile don't match the information on your website or other online directories/citations, it can lead to a suspension.
Listing 24/7 business hours
If you indicate that your business operates 24/7 but it doesn't, it can raise flags and result in a suspension. Ensure that your hours accurately reflect your business operations.
Manager account suspension
If a manager's account associated with your listing gets suspended, it can also result in the suspension of your Google Business Profile account.
Duplicate listings
Creating multiple listings for the same business at the same address is against Google's guidelines and can lead to a suspension. Each business should have only one listing.
Note: It's often overlooked that both Google and users can make changes to a Business Profile, including address, hours, photos, and reviews. Consequently, it is crucial to frequently review your Google Business Profile to ensure that no inaccurate modifications have been made to your profile. 
Conclusion
Managing your Google Business Profile effectively is essential for enhancing your online presence, attracting customers, and maintaining a positive reputation.
By optimizing your profile, you can leverage the power of Google My Business to grow your business, connect with your target audience, and stand out from the competition.
Take advantage of the various features and functionalities offered by this tool to maximize the benefits and drive success in the digital landscape.